There are different types of restaurants, those that started out small and humble, and then go on to become popular among the connoisseur, and eventually moving on to up-market, and also there are restaurants who started on a bang, but decided to go the other way round, New York New York, of course belongs to the latter.
New York New York (NYNY), started well, with the maiden restaurant at the ever-busy Citylink, which by far a good location, witnessing the everyday crowd moving from City hall to Marina Square, Suntec area.
My initial impression of New York New York was good, even though people told me that their food was average, but i still proceed on to my first visit there. But slowly and surely, NYNY started to venture into the heartlands, with new restaurants at Lot 1, Amk Hub, Heartland mall and downtown east.
Not that NYNY is a very classy restaurant in the first place, but i still find the overall feel to be above average. But it seems that the move into the heartlands is reaping dividends for NYNY, with most of the restaurants being filled up easily every day, especially so during the weekends where the whole family comes out to dine.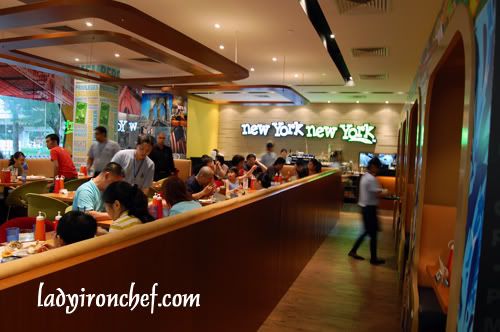 New York New York (NYNY), with its big white & green signage, and the trademark light green comfy furnitures, stands out from far. NYNY used the copy-and-paste method for their interior decor to good effects. The particular branch is at Lot 1, taking over the place of the former tenant, Pizza Hut.
By and large the location is a good place as its on the ground floor, and just beside the entrance near the taxi stand. This makes me wonder why Pizza Hut chose to vacant it in the first place.
Caribbean Breeze ($5.90)
Frozen pink guava and pineapple juice.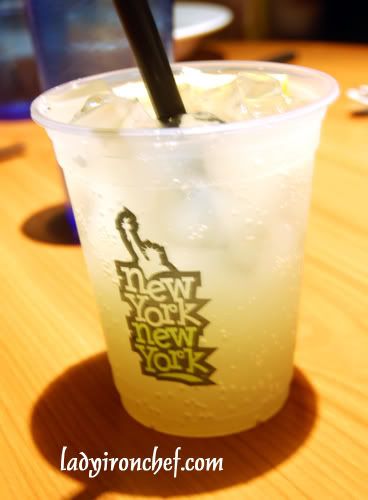 Lime lemonade soda ($5.90)
Real traditional American lemonade, good and reliable.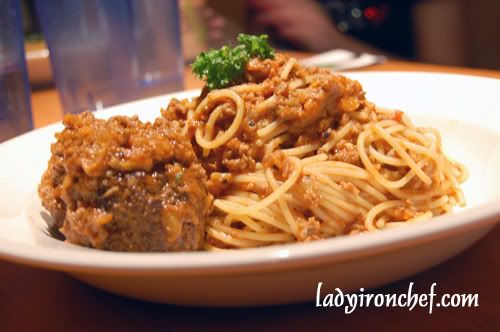 Spaghetti Bolognese ($12.90)
The spaghetti bolognese with giant meatballs. The pasta is done "al dente" firm yet not too hard. The meatball was really gigantic, well i'm not really a meatball person but my brother seemed to enjoy this simple pasta.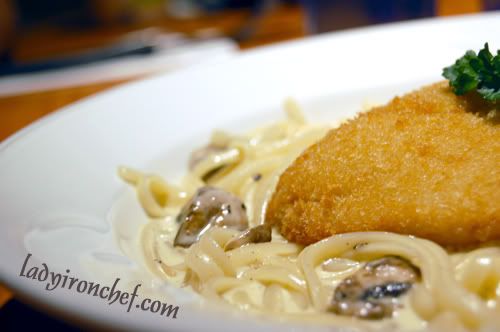 Tagliatelle mushroom alfredo with crispy fish ($12.90)
Fish and creamy pasta instead of chips. The pasta was average, i preferred tomato to cream base, and the fish was average nothing spectacular.
Smoked salmon velvet ($9.90)
Smoked salmon, tuna mayo, marinated tomatoes, grilled vegetables and sauteed onions made up the Smoked salmon velvet. I felt vegetables in sandwich would be better off being fresh than grilled.
Tagliatelle aglio with fresh seafood ($12.90)
Simple and delicious. Extra virgin olive oil with lots of garlic and chili combined perfectly with mixed seafood. I never liked aglio because i found it too dry, and too spicy. But then again, its personal preference.
Juicy beef tenders ($13.90)
Under the cloud of the creamy mashed potatos, the beef chunks with gravy was too salty for our liking. We struggled to finish the dish.
Hawaiian pizza ($13.90)
The hawaiian pizza came in the thin form with the typical hawaiian toppings like pineapple and ham. 8 slices to share around the table. However, i lamented the fact that the pizza wasn't cheesy enough.
Total bill was $103.81 for a table of 6, which worked out to an average of around $17 per person. Prices are still within the reasonable range for a mid-tier restaurant. The menu is comprehensive with lots of choices like salad, pasta, pizza, main course, and desserts. Food at NYNY is average at best, judging from the lines of people queuing up for a table at NYNY, I believe we will see more of NYNY opening in other heartland shopping centre.
New York New York
21 Choa Chu Kang Ave 4
#01-05 Lot 1 Shopping Mall
Tel: 67605692