I know what you are thinking of when i mentioned hawker centre stalls, plain, boring, unfanciful, the run-of-the-mill look! But recently food lovers are spoil with more options as more food & beverage owners look to "attack" the heartlands, the place where you and I grew up in. Botak Jones, Cilantro are some of the better-known names to "invade" our familiar neighbourhood.
Putting that aside, Mr Avocado isn't exactly "new", they have been around since 1990, and participated in the Singapore Food Festival 2003, 2004. Well just that last time i didn't really keep an eye for good food, so i only came to know its existence after a friend recommended me there.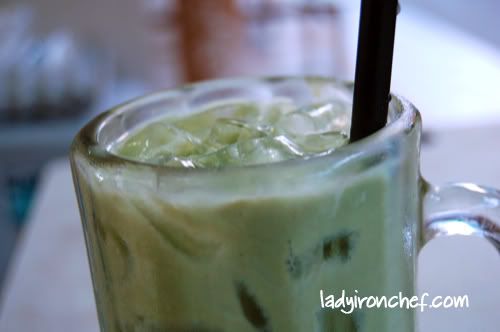 Avocado ($2)
They are not called Mr Avocado for nothing, the avocado being their signature drink is surely a must-order drink when you are here. Although i am not a fan of avocado, but Mr Avocado's rendition win me over with its smooth, creamy and milky interpretation.
Avocado fruits contain a high concentration of dietary fiber, vitamins and potassium. And definitely makes a good drink on a hot day. Mr Avocado's tagline is "exotic fruit juice". With some of their specialty like dragon fruit, wintermelon, waterchestnut, loh han kuo, soursop, aloe vera, white fungus definitely sounds more exotic than your usual watermelon, apple, orange.
And i noticed the fact that within Alexandra village hawker centre there are at least four fruit drink stalls selling almost identical drinks. My guess is the hawker centre is always crowded with the office folks working nearby coming in for lunch, and you know fruit juice is always a pleaser for the ladies.
Mr Avocado
Blk 120, Bukit merah lane 1
stall #01-19
Alexandra Village Hawker centre
Closed on saturdays