Mellben Seafood needs no further introduction in the local scene. Renowned for their claypot crab bee hoon, many food lovers have braved rain and storm to queue up in its heartlands outlet, all just for their crabs. The first Mellben Seafood has been around at Ang Mo Kio for several years now, and it's until last year where they open this one at Toa Payoh, and i recently also heard that they have a third branch at Pasir Ris.
Media reports, celebrity endorsements, enough said!
Prawn paste chicken ($10)
The prawn paste chicken or "har cheong kai" is always a dish on our list to order when my family had zi-char. Personally i'll prefer sweet sour pork to this anytime, but my brother is a fan of chicken. The chicken came pipping hot and the fermented puréed shrimp taste was very evident in the crispy skin. But at $10, the price is slightly higher, as most zi-char stalls offer this dish at $8.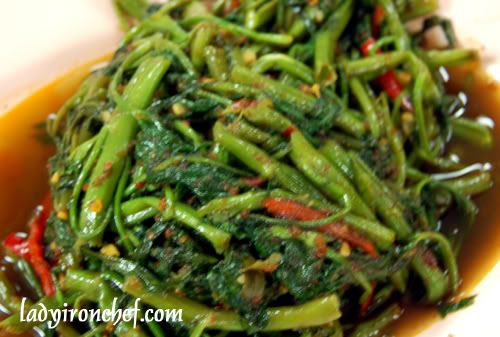 Fried sambal Kangkong ($10)
We also seem to have the habit of ordering sambal kangkong. Mellben's rendition was truly hot and spicy. Again at $10 for a vegetable dish, it was priced higher than the usual $6-8 repertoire.
Chili Crab ($41.80)
While patrons to Mellben always order their signature claypot crab bee hoon, we decided to buck the trend and had the chili crab ($38 per kg) instead. Our decision was vindicated, the chili crab proved itself no less than the more popular claypot crab bee hoon counterpart. The thick chili gravy was spicy and slightly sweet, and i particularly enjoyed the eggy taste.
My family's always has a soft spot for crabs, not me though, i'm too lazy to eat crab. But when i do eat crab, i always take the big pincher, because they are by far the easiest to eat and with the most meat. One bite settles everything, all the fleshy meat into my stomach!
i'm a sucker for those fried mantou that always come together with the chili crab. Some people will like to drench the whole bun into the chili gravy, but for me i always like to poke a hole in the middle of the bun. After which i'll put some thick spicy eggy gravy into the middle and let it flow inside. And after the first wonderful bite, i'll then dipped the remaining bun to get the maximum soak of chili gravy. Heavenly!
Total Bill was $71.50 for 4 people. This is actually quite reasonable for 4 people, but if you examine closely, the price range of the food at Mellben is substaintially higher than the normal zi-char store. This is partly due to the popularity of Mellben, and they are able to commend a slight premium over the rest. The chili crab was excellent, and we will be looking to try the rest of the crab-mates next time.
One thing to note about Mellben though, the two branch at Ang Mo Kio and Toa Payoh are both not within walking distance from the MRT station, which means to say you will need to take a feeder bus in from the interchange which can be quite a chore. Nevertheless, they are selling out the crabs every night, this tells you something about them!
Mellben Seafood
Block 211 Lor 8 Toa Payoh #01-11
Tel: 6353 3120