The 2 for 1 tag line is recognized with Canadian Pizza, and their easy-to-remember hotline 6241 0241 is another reason which has make Canadian Pizza a widely popular choice for pizza delivery services.
With mainstream competitors Pizza Hut which besides the delivery services has their own restaurants, and Sarpino's which offer the same gimmick by having the 1-for-1 promotion, and the new Rite pizza, it can only mean good things for consumers who want a quick one on their pizzas.
Having tried Canadian Pizza a couple of times before, i thought that for the prices their pizzas are actually not bad, so on this occasion i decided on having Canadian Pizza instead of Sarpino's as the previous time i have tried them already.
Teriyaki Chicken (Reg 10")
Teriyaki chicken, mushrooms, sweet corn, capsium, roasted sesame seed. The first bite of the pizza already told me everything i should know, i ordered the wrong pizza! All right, i understand that you can't really be expecting huge chunks of the teriyaki chicken, even though i accepted the small bits of chicken, but where's the taste? There's not much of a flavor in the chicken, and this is supposed to be a teriyaki chicken pizza.
Canadian pizzas are all thin-sliced, personally i would prefer my pizza to be those thicker kinds rather than the thin ones. But there are places which served excellent thin slices, and the same goes for thick slices, so it largely depends on the place where you get your pizza.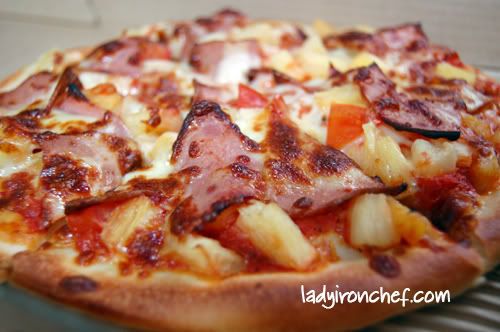 Hawaiian Classic (Reg 10″)
Turkey ham, turkey bacon, diced pineapples, fresh tomatoes, mozzarella and edam cheese. The Hawaiian classic fared slightly better, although not much to redeem Canadian Pizza. I supposed the turkey ham is cut rather generously, but other than that, not much really.
This shows exactly the effects of not having enough cheese. If the pizza is cheesy enough, then when you pull the scene will be a total different one. Yes cheese can be expensive and its understandable that Canadian needs to cut cost given the pizzas are 1-for-1. But i feel pizza without enough cheese is not pizza. Period.
Total bill is $23.90 for 2 reg 10″ pizza. To say that i am utterly disappointed with the quality of Canadian pizza is not an understatement. And i will probably not call 6241 0241 again. Based on my previous experience with Sarpino's, i think they fared better than Canadian, but i'll have to try again to find out.
Pizza hut is of course the better one among the three, but obviously more expensive. But one common problem among the three pizza deliveries, is that they often does not provides enough cheese sachet. For this order, they only provided me with one cheese sachet, and i remember my previous encounter with Sarpino's, they didn't even give me any cheese sachet!
I have to admit, on my part i forgot to remind them to give me more cheese sachet. But really, how much can a pack of cheese sachet cost? Does it happens to you too, or i happened to be unfortunate on those severals occasions i called for pizza?
Canadian Pizza
Hotline: 6241 0241
Bukit Batok St 11 Blk 164 #01-134