A long long time ago, we have A & W for our fix of waffles and root beer floats. Now that they are gone, Waffletown seems to be the only substitute for A & W. Located in Balmoral Plaza at Bukit Timah, the place is actually quite accessible because its only about ten minutes walk away from Newton MRT. Taking a bus from Orchard road takes a mere ten minutes too.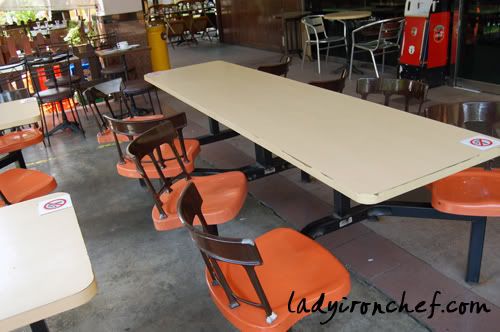 Offering the same "American" style of fastfood, even the seats are "A & W"-like. There's seats outside if you prefer to seat in their "al fresco" area, otherwise go on in to their air-conditioned areas inside.
The place is a let-down though, the seats are all right, just like your fastfood restaurant chain. But i find the interior to be a little shabby. Actually i am saying this because i felt that Waffletown has great potentials but the management somehow don't seem to be too bothered about business.
To prove my point, look at the first picture, they took some ugly shots of their food and post it at their entrance. The unglam shots are not even their focus which is waffles. Instead the shots are pictures of some totally unrelated food like black pepper steak, fish and chips, grilled fish.
Single scoop chocolate chip waffle ($3.70)
As the name Waffletown imples, its a place for waffles after all. Thus selections for waffles are aplenty, with your plain waffles at $2.50, there's ham waffle, sausage waffle, turkey bacon waffle, and of course ice cream waffles.
At $3.70 for a single scoop ice cream waffle, its really a steal though. Even Haato which has one of the cheaper waffles around, are selling at $6 for their single scoop waffles. But then again you can't compare it this way because the ice cream at Haato are gelato, while the ones here are the normal ice cream.
Single scoop raspberry waffle ($3.70)
The raspberry ice cream is really nostalgic, remember the raspberry ice cream which we buy from the motorcycle uncle when we were young? Its exactly the same one! My friend says that raspberry flavor is still available at supermarket, but i can't seem to find it.
But i can conclude that at the waffles are definitely better than Gelare. That one is expensive, normal days single scoop waffle is almost ten bucks, and their waffle isn't even good.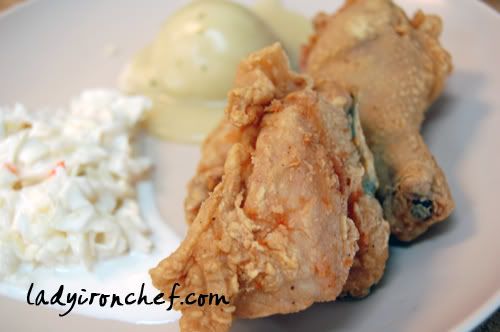 2 Pc Fried Chicken set ($6.70)
The two piece fried chicken set at $6.70, prices are comparable to KFC, but the chicken is slightly better. For one, the chicken isn't as oily as KFC's, and nowadays KFC standards really are not consistent. The coleslaw and potato here are at most average, with the chicken faring better.
Total bill is $14.1 for 2 waffles and 2 piece fried chicken. Although the place can't really substitute A&W which is deep in our heart, but it can be a replacement for now, until someone brings back A&W. I won't say the waffles are that excellent, but at $3.70 they are really worth the price, and their fried chicken is all right if you dislike KFC.
Waffletown
271 Bukit Timah Road
#01-02 Balmoral Plaza
" Waffletown, for the waffles! "