Seah Street Deli has an American air around it, it is after all a restaurant serving your good old American food. Don't let the name Seah Street fool you, the place is call Seah Street deli because the restaurant is located in Raffles Hotel, which is just beside Seah Street.
Step into Seah Street Deli, and you will be transported back in time to 1950s New York. The restaurant does imitates the look of a Big Apple Deli quite well, the lightning, the decors and the furnitures all oosh a certain classical American touch.
Located at the colonial Raffles Hotel, Seah Street Deli is just a 5 minutes walk away from Raffles City. Certainly an accessible place for a meal if you are in the area and do not want to be in the crowd.
Nowadays where else can you find a jukebox? Talk about nostalgic, they certainly roll back the good old time.
Wild Pacific Dory Fillet ($18.50)
Served with natural organic vegetables, baby potatos, and lemon wine sauce. The wild pacific dory fillet comes up to be quite ordinary actually. The dory is fresh, but not much of a surprise there, and at $18.50, its a tad expensive. Serving size is definitely huge, well it should be, we are talking about American food after all.
Grilled Salmon Steak ($18.95)
Salmon marinated with mix herbs, grilled zucchini, garlic mashed potatoes and dill cream sauce. The Grilled salmon steak taste to us slightly under-flavored, it will be better if the flavor can be stronger.
The garlic mashed potatoes are plentiful, and really, you can't finish them off unless you really got a big appetite.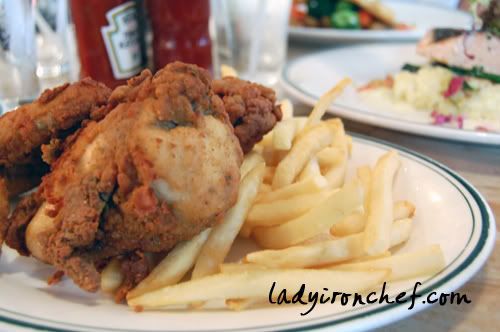 Southern Style Chicken ($17.50)
Deep fried chicken, served with fries. The portion is gigantic, but really thats it. The chicken is deep fried, done in your American style, fries are decent. But at $17.50, the Southern Style chicken is a suspect for rip-off
Seah Street Burger ($14.95)
Seah Street Deli's very own freshly ground all beef patty with lettuce, tomatoes, and onions served on a toasted sesame bun. If you think the Seah Street Burger is big, think again. You haven't seen the bigger burger.
Their Texas Burger a 12 ounce sized beef patty. Granted i heard quite good things about the Texas burger, but the stomach didn't have room for it, so i ordered Seah Street burger instead.
Seah Street Burger is not too bad, the beef patty is nicely mashed, put together with the lettuce, tomatoes, and onions inside the sesame bun, you will be wondering how do you start eating the whopping burger.
Having eaten burgers in restaurants like Relish and Seah Street, not at your fastfood joints, i came to realise the only feasible way to consume them will be to cut by bites, otherwise you can always choose the alternative, take a big mouthful!
Chocolate Decadence cake ($11.95)
The all time favourite chocolate decadence cake at $11.95 do seems a bit steep. But the serving size of the cake more than make up for it. The cake is ginormous (gigantic & enormous)! Seriously, i have never seen places cutting such a big size of cake.
The chocolate decadence cake is made up of 7 layers, and each layer is sweeter than the other. Even though i have a sweet tooth, i find the cake to be too sweet. But its good to indulge in such decadence once in while. After having our main courses, the four of us actually struggle to finish the cake. A must-try if you visit Seah Street Deli.
Total bill is $95.76 for 4 mains and 1 desserts. But Citibank is offering a 15% discount for Seah Street Deli, so our bill after the discount is $81.90. Prices are slightly steep here considering the fact that the food is not bad, but not to the point excellent. At around the same price, there might be some other places which can be better.
Portions are definitely huge, this is where we made a mistake. I think for 4 person, just order 3 main course to share will be more than suffice. The chocolate decadence cake is a must try for desserts. If prices can be cheaper, then i say Seah Street is a nice and cheerful place to dine out, until then, maybe once is enough.
Seah Streel Deli
1 Beach Road #01-22
Raffles Hotel
" Roll back the good old times "
Featured in