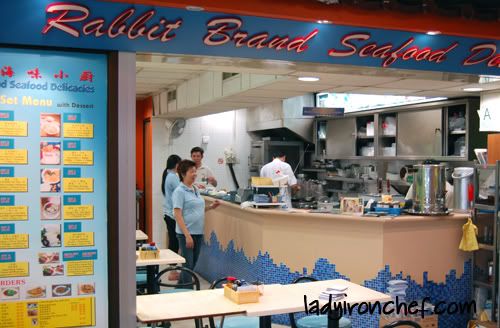 Rabbit Brand, rabbit brand. We are not talking about the rabbit brand sweet. I have heard about Rabbit Brand Seafood restaurant, but i have no idea that they got an outlet selling seafood delicacies, right in the middle of town, Lucky Plaza.
My friend introduce me to Rabbit Brand Seafood delicacies for a budget lunch, i don't visit Lucky Plaza often, but Rabbit Brand does turns out to be quite a surprise.
A quick look at the menu actually tells you everything about Rabbit Brand, they offer seafood delicacies such as shark fin, abalone, at absolutely cheap prices, how authentic the seafood are remains to be seen, but then you can't really to expect to have the real deal at a price as cheap as 5 bucks can you?
They have many sets, with the cheapest going at $5.50, to the most expensive at $12.50. Buddha over the wall, abalone, shark fin, sea cucumber, scallops are the seafood delicacies which Rabbit Brand serves.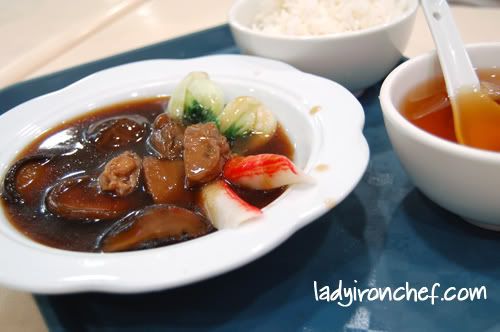 Set B: Baby Abalone in sauce ($8.50)
The set B option has the baby abalone in sauce, vegetables, rice and chinese tea, and not to mention the cheng tng (literally clear soup, a type of chinese dessert) which comes free with every set.
Whether the baby abalone is the real one or not isn't really the question here, its the sauce which the baby abalone is cooked in that excites me. The essence of the mushroom and the abalone are clearly all absorbed into the sauce, and just having the sauce with white rice is good enough.
Set J: Shark fin, scallop and scrambled egg ($5.50)
The set J has shark fin and scallop with the scrambled egg. I am skeptical about the shark fin, and scallop mention in the menu because its barely there, but then you can't complain when the meal is only $5.50. What do you expect?
Nonetheless, i love scrambled eggs, and the one here does well for me. A simple and hearty meal.
Pak Choy Meow ($1.60)
The pak choy meow, or white vegetables comes in four, and two mushroom. Evidently in the picture. The prices for their side dishes selections are cheap, with most under 2 bucks for each one. The white vegetables are good, crunchy and fresh.
Total bill is $16.69 for 2 person. I do think that the prices are rather reasonable for a meal in the heart of the town, Orchard. With normal food and drinks in a food court, prices are about the same, but i think the simple fare here definitely suits me better.
You cannot be expecting to have the real seafood delicacies with the cheap prices you are paying, but its quite a novice tasting such similar ones. Rather than buying you-know-what junk food, have your lunch today at Rabbit Brand seafood specialty!
Rabbit Brand Seafood Speciality
304 Orchard Road
#02-114 Lucky Plaza
Tel: 6737 9722