At the end of the winding South Buona Vista road off Pasir Panjang is Village Centre, a small building with Cold Storage its anchor tenant, and a mix of other restaurants like the familiar Lemongrass Thai restaurant. Besides that, there's also a hidden gem in the form of Fish Mart Sakuraya, i'm not so sure whether its so much of a hidden find since there might be tons of people knowing its existence already.
Inside you can find groceries, not your normal ones, but with the made-in-japan tag, and on the wrappings you see a written language in the form of Japanese. Think Meidi-ya at Liang court, Isetan supermarket and you will pretty much get the idea.
Besides food stuff, Fish Mart Sakuraya also have cooking materials and seasonings imported from Japan.
Look at the big, juicy strawberry! They are yours to bring home for a price though, $13.50.
Within Fish Mart Sakuraya, besides selling Japanese food stuff, they also have a dine-in area which offers real cheap Japanese food. I didn't have any on that day but i will look to go back and try next time.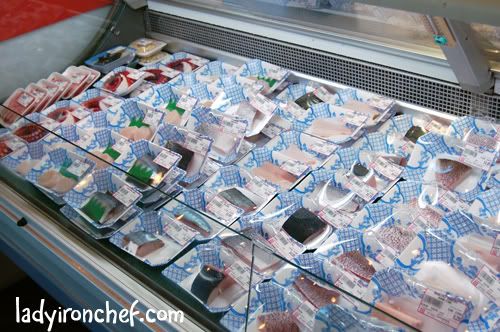 A wide range of fish available to choose from. The chef will cook them on the spot, maintaining the freshness of the fish.
Fish Mart Sakuraya is a gem for people staying in the west and provides an alternative for those who does not want to go all the way to places like Meidi-ya and Isetan supermarket in Town for their Japanese fixes. Besides the one at Village Centre, there's also another one at Parkway Parade
Fish Mart Sakuraya
3 South Buona Vista Road
#02-01 The Village Centre