If you have been following through LIC, you will know that i never fancy buffet, because the greedy me will want to eat as much as possible to satisfy the price, and you need to fork out big money for quality buffet, think The line at Shangri-la, Wasabi bistro, Melt the world cafe.
Having said that, as my family wanted a weekend dinner buffet without being too heavy on the pocket, i did some research online, and decided on Feast @ East the buffet restaurant. Nothing mind-blowing, just the rather reasonable bill for a weekend dinner buffet, which can otherwise be very expensive.
Feast @ East is located at Grand Mercure roxy hotel at East coast road, just directly opposite Parkway parade. I do have doubts about restaurants in hotel situated in suburban area initially. But i guess there's always a first time for everything.
The interior of Feast @ East is rather big, i think housing 80-100 shouldn't be a problem. As the name implies, firstly the heritage feast in the east. And second, they are a buffet restaurant. Duh!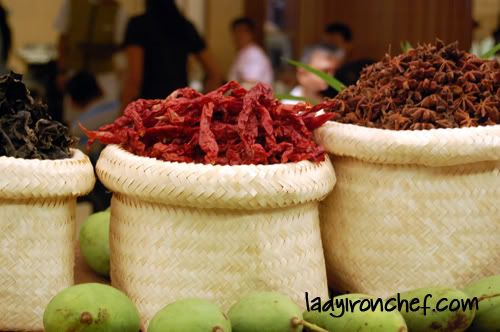 A gastronomic journey of food from a bygone area which many may have forgotten and also the familiar favourites. Truly authentic tastes from the various cultures and lifestyle of Singapore.
This is how Feast @ East describe themselves, and i do agree to certain extent. What really impress me about Feast @ East is the small little details they go into, to create the bygone area feel with some of the stuff that we used to see when we are just small kids. You will see them in the pictures later.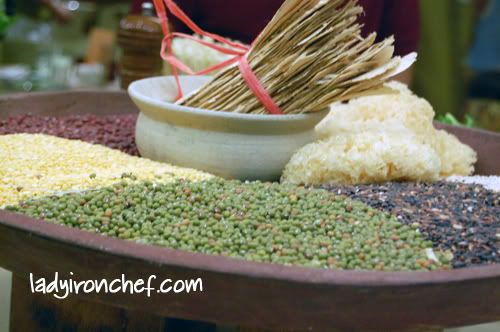 However, the food really is average, nothing much to shout about, and before the buffet here, i had Kampong chicken, went to Bark cafe, so i wasn't very hungry.
Seafood selection, with mussels and big prawns.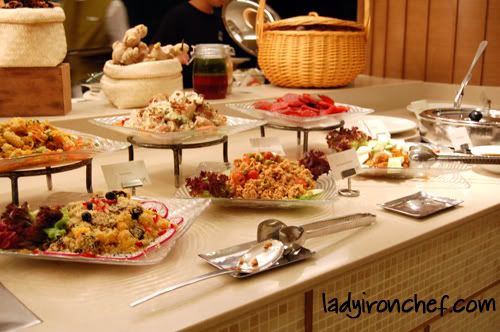 "Authentic" local delights
Somehow i feel that they are more like Hawker food, and honestly, hawker food are best eaten in hawker, not a restaurant.
Roasted meat selections
Surprisingly the roast duck is actually quite good. I am more of a duck than chicken fan, and i must say the duck gets the thumbs up!
Gammon Ham
The gammon ham is too salty, not to our liking. Generous in serving, but wait, this is a all-you-can-eat buffet after all.
The chef will whipped out flavors like laksa and mee siam on the spot.
Mee Rebus
I had a taste of the mee rebus, i'm not sure how you exactly describe a good mee rebus, but i think this one is normal.
Laksa
The laksa is quite all right to be fair, nothing fantastic, but nothing bad either.
More local food selections
Now, this, is what i am talking about earlier. The biscuits are so old-school, totally nostalgic and it really bring out the fond memories don't they.
Another one, the little details that Feast @ East actually bothers to look into, are what i credit them for.
There's even an ice-kachang machine for you to satisfy your ice-kachang-seller-wannabe crave.
The desserts section are really the part that set me licking, literally. I am a sucker for desserts, and for feast @ east, i didn't really try most of their local food, instead my efforts are all channel into, yes desserts.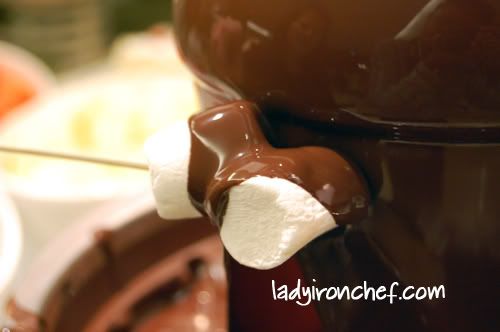 How can one resist the warm and chocolaty, chocolate fondue. Definitely not me, put a marshmallow under the flowing chocolate, and its simply goodness, do it the same with different kind of fruits!
Especially so with big, juicy and yummy strawberries!
The desserts and cakes selections are rather comprehensive, there are hits and misses of course.
I always love fruit tarts, but obviously the fruit has to be my liking, i don't fancy the blueberry here, kind of sourish.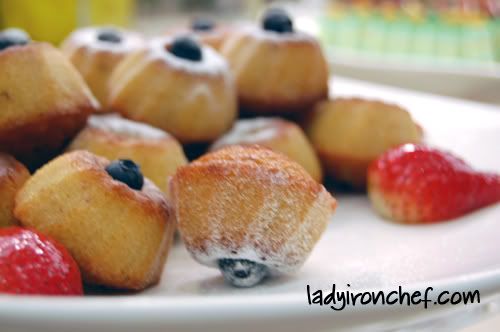 There's also tao suen with you tiao. Authetic taste yes? It doesn't matter, tao suen is always one of my penchant among the chinese desserts.
Total Bill is $134.15 for 4 person which works out to be about $33 per head. The normal price for their buffet dinner will be $38, but we use the Citicard promotion, 1 dines free with 3 paying adults. At $33, i guess the price isn't that expensive given its a weekend buffet dinner. But at $38, i might think twice before coming.
You can't really speak of quality in the food, we felt that they are normal, at best a few dish stands out. Otherwise you are actually paying for the experience of eating hawker food in a restaurant environment. Dessert-wise i think its not too bad, with quite a repertoire to choose from.
Like what i mentioned earlier, credits to Feast @ East for putting in the effort in the small details which creates a truly heritage feel, the gastronomic journey of food from a bygone area which many may have forgotten. The concept is good, but the food just needs to be better.
If you are not too fussy about food, Feast @ East do makes a nice place to bring your family along for a buffet spread. But if you are particular about the quality of food, stir clear of this place.
Feast @ East The Buffet Restaurant
50 East Coast Road
Roxy Square
Tel: 6344 8000