* * * Now Closed * * *
Eden Cafe is acknowledged for its delicate florals cuisines to bring a whole new dining experience for the customers' palate. Owner of the former Helio Cafe at Marina Square, Mr Clement Ng is the brain behind the floral concept at Eden Cafe.
Positioned at Club Street, just beside Ann Siang Hill, Eden Cafe is a quaint flower inspired cafe seated at the F&B robust street with other eminent neighbours like Les Brasseries, Senso Ristorante, Spizza, Seven on Club, Da Paolo II Ristorante, and Indochine restaurant. There is the make-to-order option for dinner which is very interesting. Contact Mr Clement Ng to custom-made a dinner which is unique for you.
The interior is done in very unsophisticated manner, with soft soothing music as background. The cafe has such a cozy and homely feel that my friend and i can just sit there for the whole day. It is that comfortable, just like home.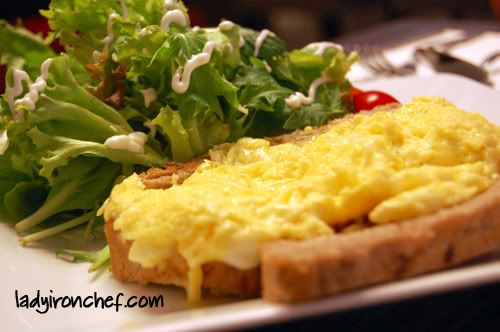 Sundried Tomato Omelette ($9.50)
Eden's brunch menu is only available during the weekends and public holiday. It is the draw of the brunch menu which actually brings my visit to Eden. I'm always fascinated by the prospects of eating brunch at some comfy cafe on a laid-back weekend.
The brunch selections here are mostly toast and sandwiches. The omelette is the one which caught my attention. I was rather astonish when the dish came, not that i was expecting a lot, but at almost ten bucks for omelette on a toast, coupled with lots of greens, it do seem a tad expensive.
I understand that many places which offer brunch might be even pricier than this, but still paying ten bucks for the definitely-not-filling brunch do makes ordering lunch seems a more reasonable option.
Nevertheless, the Sundried Tomato omelette is quite good, with a hint of cheese within the egg, and i must commended that not many places actually have such a healthy serving of salads to go along.
Honey Mustard Chicken ($14.90)
The main courses at Eden cafe takes longer to serve, with a waiting time of about 20mins. At first sight, the chicken is certainly tiny, with two small pieces of chicken breast, which comes along with again, very generous servings of greens.
The honey mustard flavours the chicken well, although we felt that the use of chicken drumstick can add more zest to the overall dish. At $15, the honey mustard chicken is definitely not filling for folks with big appetite. If only the serving size can be bigger.
Hibiscus Soft Cheesecake ($6.90)
Desserts are where Eden really excels at. The Hibiscus soft cheesecake is one of the better cheesecakes i have tasted so far. The cheesy flavor might come a tad too strong for non-cheese lovers, but its still acceptable for me, although towards the end it might be slightly overwhelming if you finish this cake on your own.
Coated with a layer of hibiscus top, and a bright red strawberry on top, the cheesecake is done pleasant to the eye and satisfying to the palates.
Total bill for 2 comes up to $36.70. I still find Eden to be rather expensive given its minuscule serving size, and quintessentially there is nothing that fantastic about the food. The floral concept is unquestionably interesting, with the tranquil ambience of the cafe a positive plus.
But food-wise its done very simple, i guess this is the selling point of Eden's, which sometimes make you feel that it does not justify the price tag. Nonetheless, Eden's definitely a great place to chill and sit the whole day, and desserts are excellent which will tempt me into a recurrent visit.
Until the price drop, or with greater serving size, i'll just come back to Eden's for their desserts and the nice ambience. And just for information, Eden has a new sister restaurant at the hip Rochester park, Eden Sanctuary.
Eden Cafe
54 Club Street
Tel: 6536 1181