Cova, which opened in 1817 beside the famous "La Scala" theatre, was founded by Antonio Cova, a soldier of Napoleon who first 'campaigned' as a pastry chef in the Galleria De Cristoforis.
Over the past 190 off years, Cova has built up a name for its authentic Italian culture , offering an espresso coffee or a tea savoured in the comfort of a neo-classical lounge in the mainstay of high-society life.
Outside of Italy, Cova can only be found in Japan and Hong Kong, so land ahoy! For Cova has finally opened on our shores. Choosing the ritzy Paragon Shopping centre where the likes of Prada, Gucci can be found, for the opening in Singapore certainly won't go wrong for a premium brand like Cova.
Caffe Cova is spilt into a tea room and restaurant, with the open concept cafe having the space once taken by Dome, and the restaurant taking over the premise of Swarovski crystal shop.
The restaurant interior is done up splendidly, the lighting and the tone is set in majestic gold to reflect the ambience of the place. The serving waiters are dressed smartly, stepping inside the restaurant, think fashion and lifestyle.
They had quite a wide range of cakes available, but its not available on the menu because the cakes changes everyday. So you'll need to go to the counter to order for it.
But, the big but, there's only several cakes of the day, which you order in slices. The rest are all sold in whole, which makes it difficult if you want to try many different cakes, or unless you got a large group with you.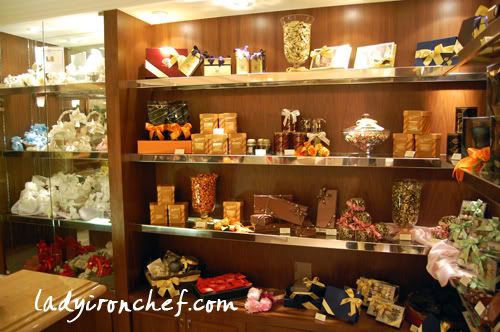 Prices in a posh restaurant like Cova is definitely not what you will describe as affordable. For their dinner menu, the mains are all in the 30 range.
For a swanky restaurant, you may ask 30 should seem rather reasonable, given there's other places not in their league but charge around the same price. But Cova being famous for its coffee, cakes and pastries, i remain skeptical about paying 30 for their main course.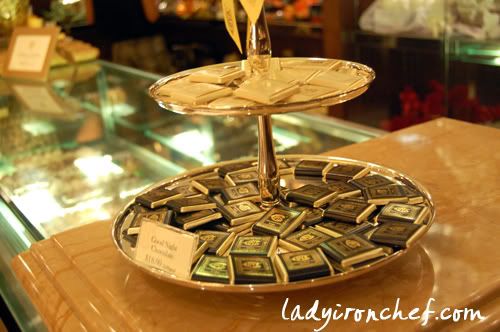 My secret food partner and I went for dinner, but we were after their cakes and pastries after all. So we didn't ordered any main course, desserts are enough!
Unfortunately for us, Caffe Cova seems to be very popular during tea time, when we went during dinner time, quite a lot of their pastries are sold out, that includes their signature Sacher cake. And we went just one week into their opening.
Bigne Pistachio
Cova has sets for their mini pastries, with assortment of 4 petite ones going for 9 bucks. For such a miniature pastry at 2 bucks, it will make Bread Papa's cream puff seems a very good deal.
The bigne Pistachio does not really have much of a pistachio taste. Period.
Mini Chocolate Raspberry Tart
The chocolate shavings on the mini chocolate raspberry tart is what caught my attention, its done very exquisitely and pretty to look at.
The raspberry in the middle is rather sourish, but i guess it gives a compliment in taste to the sweet chocolate. But i'll rather the raspberry to be slightly sweeter to perfect the overall taste.
Mini Chocolate Gooseberry Tart
Chocolate toppings coupled with gooseberry in the middle to make up the tart. Personally i do felt that the mini chooclate gooseberry tart is my least-like among the 4 pastries.
The gooseberry is too sourish, and its not like the case of the raspberry. Not so sure whether thats how gooseberry should be, but i don't like the mini chocolate gooseberry tart.
Mini Chocolate Hazelnut Tart
The hazelnut tart is the best of the lot, with the other three being quite a letdown. I love hazelnut, eating nutella out of the container is a favourite pastime for me.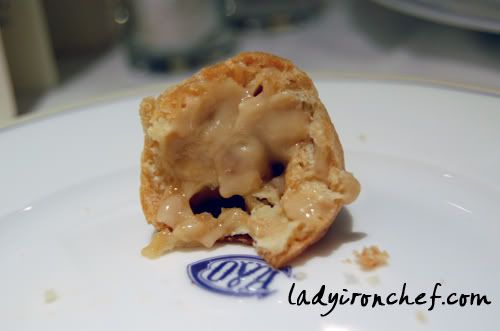 The mini chocolate hazelnut tart is gone in a mouthful, you wish there is more.
Assortment of cookies ($5.50 per 100 gram)
There's quite a wide variety of cookies to choose from, but please don't be mistaken by the picture, there's more cookies from the 100gram than the seven shown in it.
Back to the point, the cookies are actually quite ordinary, like your normal butter cookies. I like the Krumiri (long banana shape-like), butter cookie with chocolate coating at the tip.
My partner preferred the star shape cookie with-a-hole-in-the-middle, which is covered with sugar.
The assortment of cookies at $5.50 per 100 gram isn't very expensive, for a place like Cova where everything else is so expensive. But considering the fact that Famous Amos cookies are priced in the repotire of 4 plus, i do think buying famous amos is a better economic choice
Nevertheless, Cova cookies selections are placed in a nice bag, which makes a rather affordable and presentable gift for friends and family.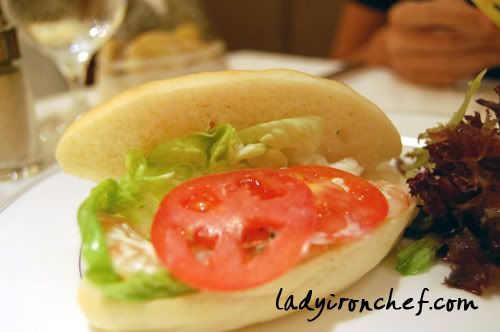 Gamberi ($14)
A refreshing combination of prawn and mayonnaise. The bread was a soft brioche so credits for that. But the Gamberi sandwich wasn't even hot and toasted.
Furthermore, the sandwich portions were meagres given the price, the shrimps were crunchy but there's only 3 tiny ones in the sandwich.
Total Bill is $32.50 for the pastries, cookies and sandwich. All in all, Cova is a good place for novelty, if u havent been to better italian sidewalk cafes, or even tried da paolo's sweet little treats, its a nice place to experience the tai-tai lifestyle. Otherwise, i do find it quite a rip-off, which Cova rides on its brand name and not really worth it.
There are certainly other places for better cakes and pastries, but i guess going to Cova is more than just that, its the overall glamorous experience seating in Cova that really attracts people there. Maybe i will go back again for their Sacher cake.
Cova Paragon
290 Orchard Road #01-20A
Tel: 6733 0777