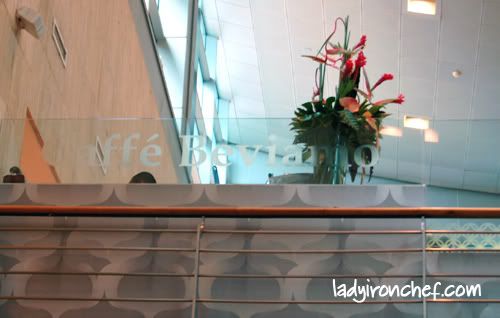 Caffe Beviamo actually manages to catch LIC attention because of its apparent lack of signboard. The first time i know of this self-effacing and laid-back restaurant is during my visit to Tetsu at Tanglin Mall. The Caffe Beviamo there is located on the ground floor and i walked around the restaurant three times trying to spot its name but to no avail.
After knowing that Caffe Beviamo is also available at Paragon level 5, a visit looks to be on the cards. And after some "investigation", LIC found the signboard for Caffe Beviamo!
Paragon level 5 is hardly a place i'll go, not that i don't visit Paragon, but that who goes to level 5? Its always at the first few levels that are most crowded. Therefore its rather a surprise when i reached level 5 and all the seats at Caffe Beviamo is taken.
The area isn't very big, with rough estimates of at most 40 seaters. The light serene green of the woody seats coupled with white simple tables actually gives an unpretentious feel.
The most amazing thing about Caffe Beviamo is actually its simplicity. The whole cafe is so straightforward in the sense that it has a easy and pleasant ambience, the food they served are your simple and comfort food like sandwiches, toasts, salads and pasta. So much so that they bear a reminiscent of Epicurious.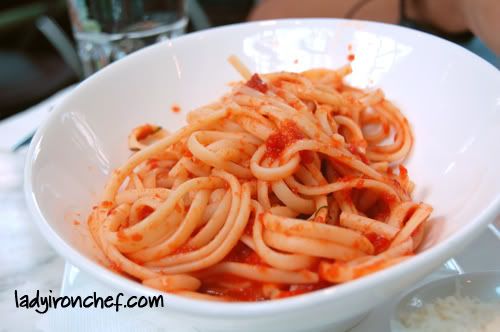 Linguine ($11.50)
Linguine with tomato, basil & bocconcini. There are only two type of pasta available on the menu, with the other being Torchietti. The linguine served here is very simple, not very flavorful in the sense that it does not packs too many type of different ingredients in. Just simple tomato and bocconcini with a hint of basil.
Its rather hard to describe the term "Australian cuisine" as there's rather few of such places in Singapore. But Caffe Beviamo quintessentially categorize its food as Australian. I'm not sure how "Australian" is the pasta, but its comfort food to me, simple and good.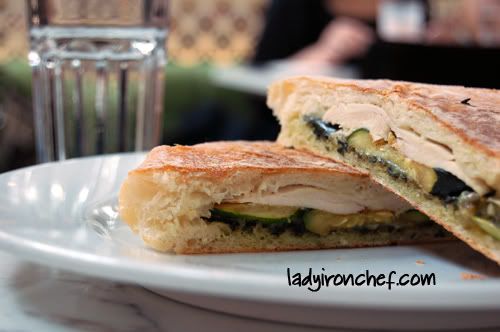 Chicken Sandwiches ($10.50)
Basil pesto, zucchini, poached chicken breast and cheese makes up the chicken sandwich. The chicken sandwich is rather good too, nothing too complicated. I'm rather skeptical about the zucchini initially, but it actually taste quite well together with the chicken breast sandwich in between the bread.
Strawberry Shortcake ($3.5)
The strawberry shortcake rendition at Caffe Beviamo is given a make-over, not quite like your usual ones. With a big red juicy strawberry sandwich in between the pastry, it does provides an inspiration with the "playing" of food by constructing them different from the norm.
The desserts are not on the menu, and its rather pick-your-own from the counter. So grab yours fast because once they are out, other different ones will be offered instead. I saw a carrot cake before we started our meal, but after we finished it's gone!
Cheese Cake ($4)
The normal cheese cake at Caffe Beviamo is real good! Cheesy yet not to the extent overwhelming. The biscuit crumb layer underneath the cake provides a different dimension to the soft and fluffy cheese cake. The "oomph" feel immediately make its presence known.
So good! And at 4 bucks, it's really a steal. Appearance-wise it looks very ordinary, but the taste is definitely not!
Total bill is $31.55 for 2 person. The food and ambience at Caffe Beviamo is bona fide simple, but the simplicity is exactly the beauty of the place. Price-wise its certainly affordable in a cafe style, prices for pastas, sandwiches and salads ranges in the tens, and different varieties of toast at $4.5 each.
I'm not saying the food is excellent, it isn't. However the comfort and simple food is exactly what you need sometimes after feeling jade from eating. The price won't hurt you in the pocket, and the place's nice to hang out with a couple of friends.
Desserts are excellent, although this can come to be rather a big tag since i have only tried two of their desserts. But given the prices, i think they are definitely worth a try, and i'll be going to the other one at Tanglin Mall again.
Caffe Beviamo
290 Orchard Road
#05-K3 The Paragon
Tel: 6836 2535