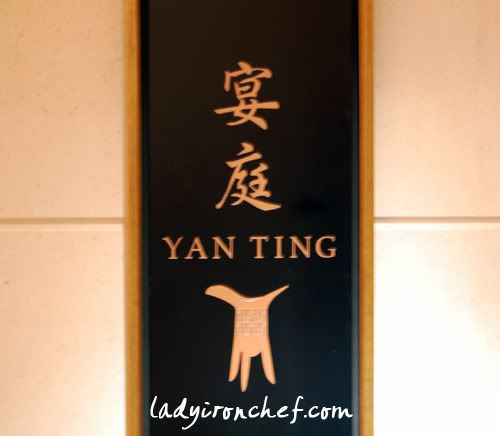 St Regis hotel, the latest glamorous and prestigious hotel to open on our shore. Tout as a 6 star luxury hotel and with so much at stake, Yan Ting, a Cantonese restaurant offers to promise you a totally different dining experience.
Stepping into St Regis is quite an experience on its own, the grandeur of the hotel will simply blow you away. The splendid furnishings and the majesty furnitures are not all, even taking a lift in St Regis promises you a unforgettable reminiscence.
6 Star is not exaggerating, and from the moment you enter the hotel, it feels so good to be rich, even just for that afternoon.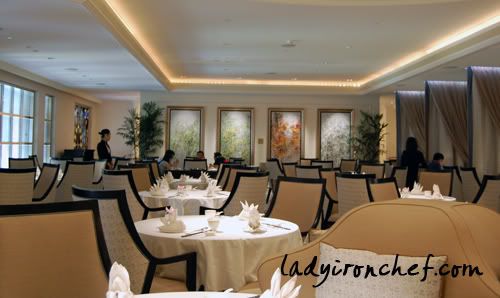 Albeit being a Chinese Cantonese restaurant, the contemporary and classy feel of the restaurant's interior certainly does not show any indication, with the exception of the 4 seasons painting, and the exquisite chopsticks and spoons plated in gold and inlaid with jade pieces.
An elegant chandelier is the highlight of the low ceiling in the restaurant. Stylish curtains and the comfy seats brings out a cozy and relaxed dining atmosphere.
The main emphasize which makes Yan Ting stands out from the other Chinese restaurant is in the pricing for its dim sum. While others usually charged dim sum by per basket or plate, Yan Ting attempts to break through the norm and bring the pricing of dim sum to another level by its per piece charging.
For Yan Ting's A la carte menu, just like some of the more prominent Chinese restaurants, they are priced by per person, and the small servings of the food meant that there is no chance of sharing food.
Being in a 6 Star hotel, you definitely will not expect Yan Ting to be easy on the pocket, with most of the simpler dishes priced from $10 to $24 each. And with the small serving, expect to spend up to $100 for a decent meal, per person.
Appetizer
Unlike their western counteparts, most Chinese restaurants doesn't actually serve out appetizer since the Chinese doesn't have the emphasize on course eating. The small squid is actually quite good, simple enough to start our taste bud going in anticipation of the rest to come. And its free, so no complains there.
Cripsy radish pastry ($1.80 per piece)
This is the first time i had a radish pastry before, and i must say it is good, the crispy skin compliments well with the soft radish inside.
Oven-baked fluffy Char Siew Pastry ($1.60 per piece)
The Char Siew Pastry is indisputably the star of the show here. Take a bite into the crispy fluffy pastry, and you will discover the juicy and sweet char siew hidden within. Having one each is really not doing justice to the pastry. And i'll rather pay $1.60 for one of these wonderful char siew sou, than to eat several cheaper ones. Excellent!
Stir-fried "cheong fan" rice roll with XO sauce ($4)
I never had stir-fried "cheong fan" rice roll with XO sauce before, and to be honest initially i mistook this dish for the fried carrot cake done with XO sauce which is commonly found in Chinese restaurants dim sum menu.
Although it tasted more like Char Kway Teow than "cheong fan", but i find it to be quite all right, and at $4 even though the portion is quite small, its still cheaper and more worth well than the XO sauce fried carrot cake that i had at Peach Garden.
Steamed shrimp dumpling ($2 per piece)
The steamed crystal shrimp dumpling, or more affectionately known as "Har Kao" comes at a hefty price tag of $2 per piece. If you do your maths, this works out to be $6 for one basket of three Har Kao. There's always a first time for everything, and this is really a first time where i had such expensive shrimp dumplings.
However, Yan Ting's Har Kao is really one of the best that i had tried so far, the thin skin envelops the fresh and succulent prawns. But at $2 each, Yan Ting is really testing the limits for the first-rate dumplings.
Steamed Pork and Shrimp Dumpling ($2 per piece)
"Siew Mai" or steamed pork and shrimp dumpling is always the dim sum i'll base my judgment on how good the dim sum at the restaurant really is. The Siew Mai here passes the test, the combination of the crunchy prawn and the lean pork goes well together.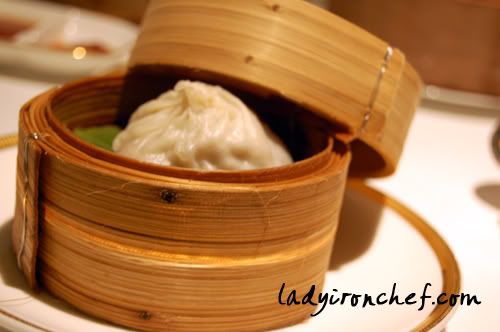 Xiaolongbao ($4 per piece)
To be frank, I never liked xiaolongbao, since i can't really appreciate the beauty of it. Even though the xiaolongbao is a bigger rendition than your normal ones, to pay $4 for one xiao long bao, i'll be crazy.
But, the Xiaolongbao at Yan Ting is really different from the usual ones, the pipping hot stock juice literally floods out upon a bite into the skin of the xiaolongbao. Although the xiaolongbao is quite good, but i'll not order it again if i come back to Yan Ting. For a $4 xiaolongbao experience, once is enough.
Traditional Cantonese egg tart ($1.60 per piece)
The egg tart is done exactly the way i like it, cripsy skin with the smooth egg custard within. I lamented the fact that the egg tart is too small. And at $1.60 per piece, they are not really cheap.
Deep-fried Yam Croquette ($1.60 per piece)
The deep fried Yam croquette with diced chicken is excellent. Although the croquette is deep fried, but its not too oily, and the Yam taste is quite unique too.
Steamed Wild Mushroom Roll ($1.60 per piece)
We ordered the steamed wild mushroom roll out of curiosity from the name. There's two to three different type of mushroom, well the mushroom roll is not really my call.
Hong Kong BBQ platter ($16 per serving)
BBQ pork, roasted duck, and crispy roasted pork makes up the Hong Kong BBQ platter. Note that its $16 for one portion, andthree of us ordered 3 portions, which adds up to $48. Ripped off is the only word to describe this.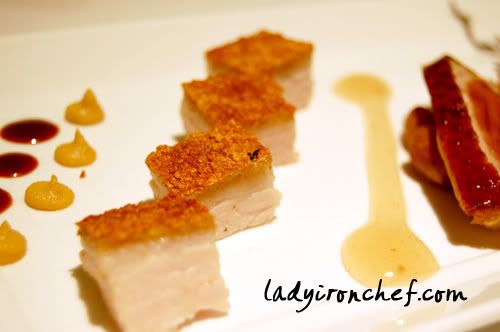 The crispy roasted pork is not too bad, but it comes in only four small cubes. The roasted duck is really ordinary, and the BBQ pork or char siew, does not justify the exaggerated price tag of $16 for 4 cubes of roasted pork, two slices of roasted duck and three slices of char siew.
For $48, you can have a whole duck, with healthy servings of char siew & roasted pork. This is totally what you will not expect coming from Yan Ting, however the truth is there for all to see. This is somehow an anti-climax for the rather excellent dim sum that we had.
Total Bill was $150.20 for 3 person, which works out to about $50 per person. But if you work out the sums, excluding the BBQ platter which was $16 per portion, the amount for dim sum is actually about $34. Although we didn't have that much dim sum, but i still find $34 to be acceptable given the high quality dim sum we had.
6 Star dim sum comes at a price, although some of the dim sum did not really justified the price, but overall the dim sum was nothing short of excellence. I'll definitely try Yan Ting again, even though its a extravagant experience, but like they say, good things come with a price. Just that in this case, its a heavier price.
Do note that if you decided to give Yan Ting a try, you must be careful and not over ordered, that is unless you got a deep pocket. Service is good and professional, with the staff knowing when to approach us, and when not to disturb us. Yan Ting certainly test my limits for good dim sum, although i am still skeptical about their A la carte menu. Give that a miss and try their dim sum! And dim sum is only available during lunch, not dinner.
Yan Ting
29 Tanglin Road
The St Regis
Tel: 6506 6888
Yan Ting is listed as one of ladyironchef's favorite restaurants in Singapore