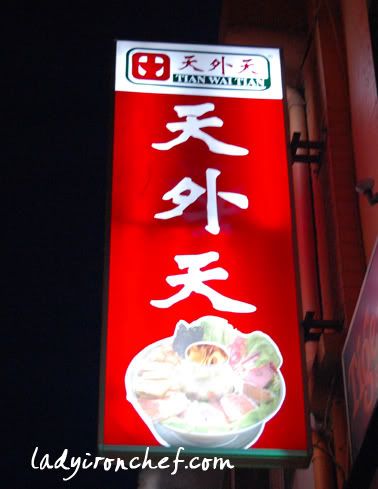 Tian Wai Tian has been around for as long as i remember, and i believe they need no introduction. Located just besides the PIE expressway at the Upper Serangoon road exit. If you are coming from train, then stop at Potong Pasir MRT on the North-east line.
There isn't any ambience to talk about, Tian Wai Tian is your typical zi-char in a normal coffee shop kind of place. Tian Wai Tian is so popular that besides the seats in the coffee shop, they also have tables at the back alley.
The most amazing thing is actually Tian Wai Tian only serves a few of their popular dishes, as in they don't even have a menu to choose from, its always the same old few dishes, yet they pack in the crowd everyday!
Fish Head Steamboat ($20)
Tian Wai Tian's famous fish head steamboat! There are two types of fish to choose for your steamboat, the white promfet and the red groupa, which we got. The soup base is always a very important item for any steamboat as all the essence of the ingredients are cook together in it.
The soup here is pretty good, and you can have it topped up too. But i find it to be slightly on the salty side. More vegetables are needed to have a better balance.
Well a must-try dish if you come to Tian Wai Tian, since this is their signature dish.
Prawn Roll ($7)
I believe the prawn roll is a very common dish and most people should be familiar with it, my family usually have it during the Chinese new year! The prawn roll here is good, dipped in the sweet sauce, awesome!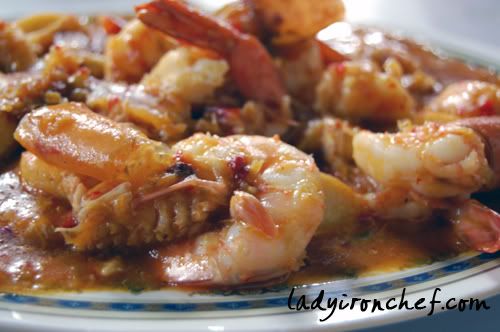 Tofu Prawn ($12)
The tofu prawn in spicy sauce taste refreshing initially. Seldom do we see a combination of prawn and tofu cooked in spicy sauce. However, the taste is a tad too much and we can't finish the dish.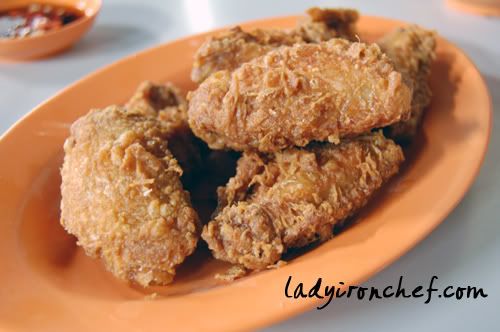 Fried prawn sauce chicken ($8)
The fried prawn sauce chicken is mainstay dish on most of the zi-char stores, my favourite so far is the one in Holland Village XO Fishhead store. But the ones here are pretty decent i guess.
Sambal Kangkong ($6)
Kangkong are best done in hot spicy sambal, and the one at Tian Wai Tian doesn't disappoint. Hot and spicy!
Total Bill is $55.50 for 4 person. Tian Wai Tian serves their famous fish head steamboat, with the few of their popular dishes. Variety isn't what you can have at this zi-char store, but if its some familiar dish that you need, find them here!
Service-wise, practically none, this is a zi-char, not some fanciful restaurant. The auntie working there can be quite rude and snobbish, so don't say you are not warn.
Tian Wai Tian
1383 Serangoon Road
Tel: 6292 9982