Sun Moulin is located just beside the Isetan Japanese Supermarket at Lido. My secret food partner and i went there after our lunch at Tetsu. I believe those who frequent the supermarket will need no introduction to this delightful bakery.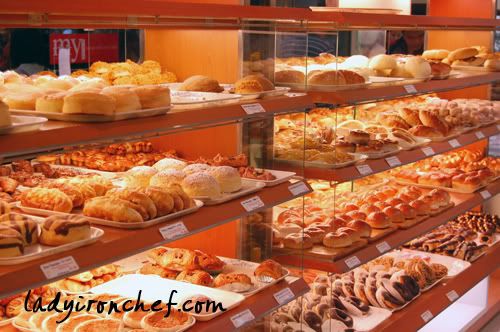 There are quite a wide range of breads, pastries, and cakes around, with prices ranging from 1 to 2 bucks, quite similar to your more commonly found Breadtalk and Four Leaves.
I was so full from the lunch at Tetsu, but my food partner is amazing, she brought quite a few home!
She has tried almost all the bread and pastries at Sun Moulin, so below are some of the ones which she highly recommended.
Soft An-pan ($2)
The soft An-pan is actually more familiar to most of us as the red bean paste bun. But at Sun Moulin, they use Hawaiian Bread dough. Soft and fluffy!
Belgian Waffle ($1.30)
The Belgian Waffle caught my attention first because i'm a sucker for good waffles. And at $1.30 its definitely worth a try, even though the waffle might be a little small in size. It will be excellent if you managed to get them hot off the pan.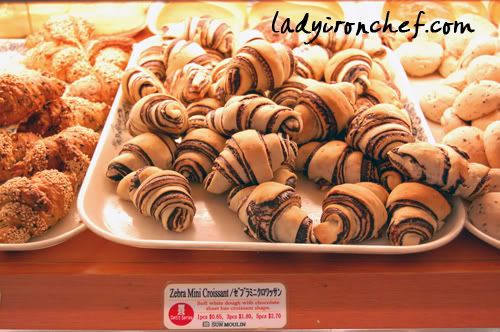 Zebra Mini Croissant
There are a few selections of Croissant here, with $0.65 for one, $1.80 for 3, and $2.70 for 5. Naturally the more you get the cheaper it is.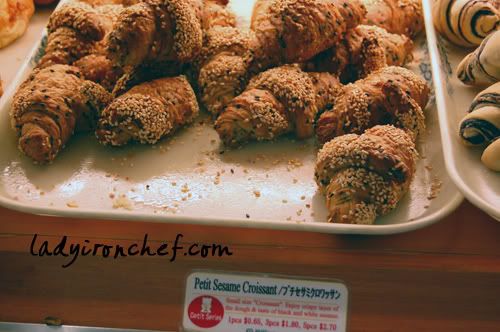 Petit Sesame Croissant
Crispy layer of dough, with black and white sesame.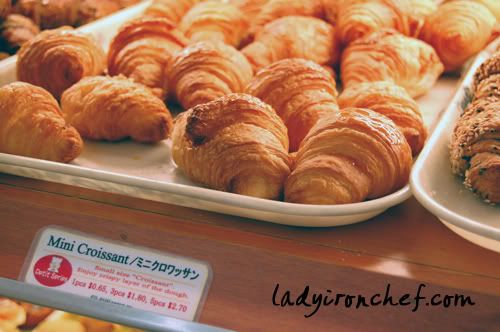 Mini croissant
Mini-size croissant, try the original taste!
Mini Choc Croissant
Your mini croissant now comes in chocolate flavour!
Double Taste Bun ($2)
Enjoy 2 kind of home-made taste, chocolate and custard cream inside.
My secret food partner got the double taste bun for me, and boy the bread is really good! Peeling off part of the bread, fills my nose with aroma of the warm chocolate and custard cream.
The bread is super soft, and its delicious even eaten on its own!
Total bill for 5 items were $9.10. I only tried one of the bread, and i'm already thinking of going back to Sun Moulin for more! My plan is to go there on an empty stomach, then order a lot of different bread to have them for lunch!
Sun Moulin's bread are definitely better than your typical bakeries (you-know-what), and the prices are also in about the same range with the most expensive bread at 2 bucks.
Sun Moulin
350 Orchard Road
Basement of Lido
Beside Isetan supermarket
" My new favourite bakery "