Safra Yishun country club, take a 15mins walk from Yishun MRT, LIC had the opportunity to visit the place last week and took some photos, so i thought i'll share them and for people who have never visit any Safra around our island yet.
This post is a non food related entry, it has nothing to do with Safra Yishun, and all the comments written herein are LIC personal opinion.
Swimming pool is definitely a main feature of any country club, be it for the kids or adults who fancy a swim, especially so in our hot weather.
Chalets are also a main feature of Safra, members can get them at a cheaper rates but i think non-members also are allowed to book them. Otherwise just get a friend who's Safra member!
Personally i didn't book any Safra chalets before, although several occasions i been to friends organise ones. I guess its pretty cool to book a chalet and just relax with your family, love one, and friends.
Fancy some sun-tanning anyone?
The rock-climbing area is one of the unique facilities available at Safra Yishun.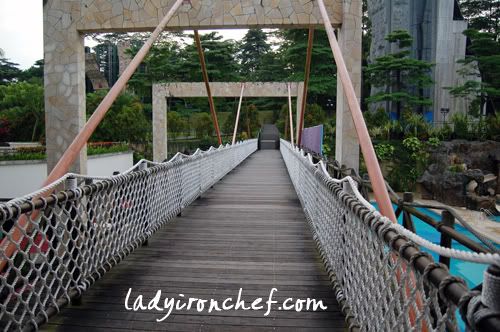 The bridge to the sports climbing centre!
Welcome to Safra Adventure Sports Centre!
The place's a haven for all rock climbers enthusiastic!
With this, LIC shall end the post on Safra Yishun! There's plenty of other facilities like tennis court, gym, arcade, bowling centre, pool tables, spas at the country club also. Well you can check them out to see the facilities, some requires a fee, while others should be available for booking.
Don't be afraid to explore the Safras around our island, they are built by the government for us to use after all!
This is a non-food related post, i'm sorry for any disturbance if you have came to ladyironchef wanting to read about my food adventure, but instead found yourself reading this post which has totally nothing to do with food. The next post will be on Eatzi, which is a cafe eatery under the same management by Jack's place, which is also located within Safra Yishun.