Ritz apple strudel & cafe has been around for quite some time, but it's until now then i got the chance to actually try out their strudel which they are famous for.
We went to Ritz apple at Upper Thomson, the outlet is just a stone throw away from Chicken House
The interior of the place is very neat and clean, with simple white furniture.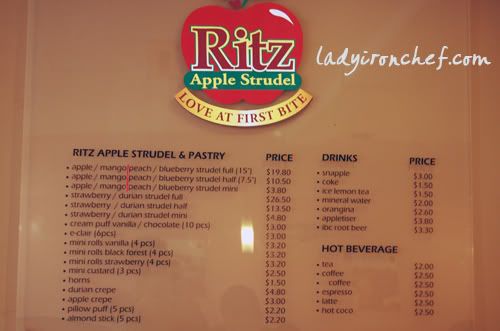 Display of their menu
Durian Strudel mini ($4.80)
We made a mistake on this one, Ritz apple strudel is call apple after all, but we had the durian strudel which doesn't quite make it. The durian is more on the sour side. Period.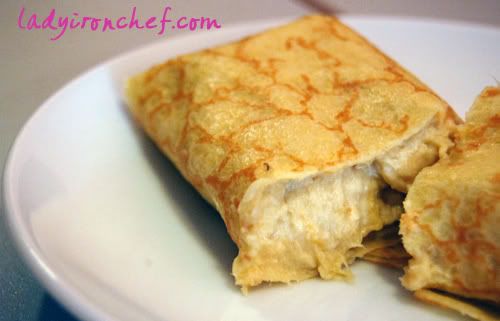 Durian Crepe ($4.80)
Another mistake since the durian is the same. Actually i heard their apple, or even strawberry is not bad, but my friend likes durian so we ordered durian flavor crepe.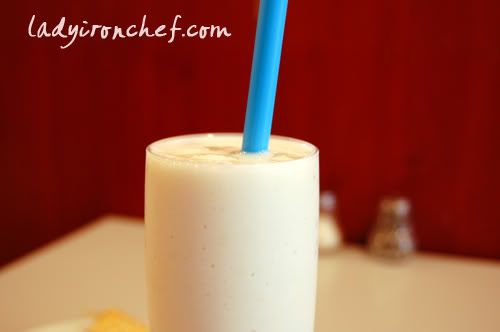 Smoothies ($4.90)
The smoothies is quite refreshing, and like the name implies, smoothes the throat!
Cashew Beef ($5.90)
Beef isn't very good when it goes along with nuts, in this case cashew as we find out. The cashew taste is too strong, which clashes with the beef. In the end we take out the beef and eat without the cashew. So much for cashew beef!
Total bill is $20.40 for the desserts. Ritz apple strudel isn't that expensive considering the mini strudel is $4.80, i guess go for their apple or strawberry flavor and you will be alright, but please leave their durians alone.
Ritz Apple Strudel & Cafe
267 Upper Thomson Road
Tel: 6458 6935
" Apple and strawberry, no durians! "