People always say, never eat cakes after 9.30pm! But who cares about the calories that comes along with the sinful indulgence? LIC says, have your cake and eat it! Especially since premium hotel cakes are going at half price after 9.30pm!
My secret food partner and i decided to go on a cake-hunt as we recalled that some hotels have half price promotions on their cakes after a certain timing. We went to Marriot hotel first, after which we found ourselves at Grand Hyatt, Mezza9.
Tiramisu ($7, half price $3.5)
The Tiramisu here is reasonably moist, laced with a hint of coffee flavor that doesn't overpower the sweet mascarpone. I like the subtle taste, as some tiramisu has a very strong wine taste.
Black Forest ($5, half price $2.5)
The huge cherry on top of the Black Forest was what tempted my secret food partner to buy it. Ttogether with the chocolate shavings by the side, its a delight to look at and eat. At such a huge slice, even at its original price of $5 its worth a try.
Strawberry Cheesecake ($5, half price $2.5)
Classic baked cheese cake with a strawberry jelly topping complete with ginormous (gigantic & enormous) strawberries! The oreo cookie base makes us felt like we were eating a cheesecake duo, we can taste the classic cheese cake flavor, and if eaten together with the oreo base, the taste becomes oreo cheesecake!
The Strawberry cheesecake itself was very filling though, creamy and rich!
Caramel cake ($4, half price $2)
We came to a common consent that the caramel cake is our least favourite among the four cakes. For one, it doesn't have the caramel taste, rather there's a strong hint of coffee. If you like coffee cake, this is probably the one to get.
Nevertheless, it look pretty and its the cheapest at $2 after half price promotion!
Croissants ($2, half price $1)
Besides the cakes, the baking items are also at half price after 8.30pm. We got the croissants for a dollar after promotion.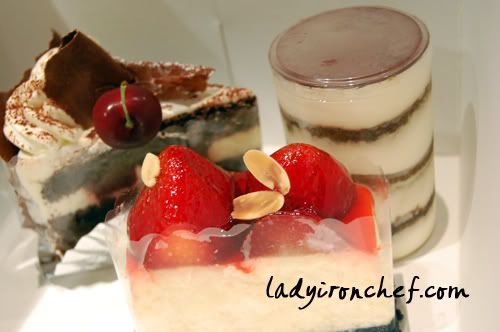 Total Bill is a mere $11.50 for 4 slices of cakes and 1 bread. The cakes at Mezza9 although not in the excellent league, but its definitely your premium hotel cakes after all, and at half price promotions they are certainly a steal!
Takeaway temptations, bring home Mezza9 freshly homemade products and enjoy half prices on bakery items from 8.30pm and sliced cakes from 9.30pm daily. 15% discount is also offered for whole akes from 9.30pm.
LIC will be looking to explore many more hotels to enjoy the half price promotions! Cakes and more cakes!
Mezza9
10 Scotts road
2F Grand Hyatt
Tel: 6416 7189
" More cakes, more cakes! "