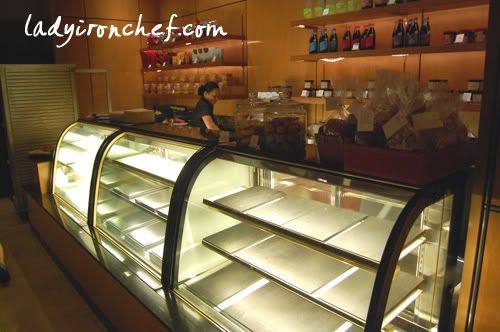 The same night of cake adventure hunting before we went to Grand Hyatt's Mezza9. My secret food partner and i went in to Marriot pastry shop at the lobby to inquire whether they have any promotions for their cakes, but they only have half price for their pastries. And the staff were already packing up, so there's only a few selections left.
Banana Muffin ($1.50 after half price)
Such a big muffin for only $1.50, grab one after 9pm!
Muffin ($1.50 after half price)
We brought two muffin since there were two types left.
Almond Crossiant ($1.75 after half price)
The nice look of the almond chips on the crossiant is what tempted us to bring it home.
Total bill for 2 muffins and 1 crossiant is $4.98 after half price promotion. Reasonably cheap for hotel standards pastries, sorry for the lack of details because we had the cakes from Mezza9 and were too full for the pastries here. My secret food partner took it home, and they were gone in an instant.
Marriot Pastry Shop
320 Orchard Road
Marriot Hotel
Tel: 68314551