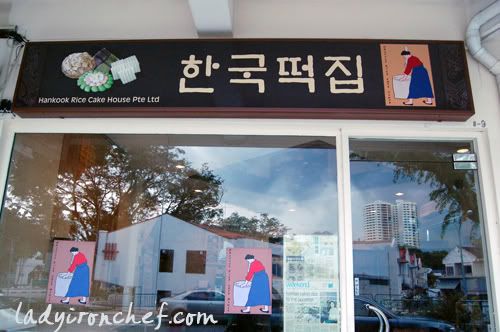 Hankook Rice Cake House is under the same management with the popular Auntie Kim's Korean Restaurant which is on the same stretch of road at Upper Thomson.
After finishing our meal at Chicken House, and Ritz Apple Strudel, my friend and i saw this shop across the street so we decided to venture there to check the place out.
Hankook Korean Rice Cakes are featured on the Business Times
The interior of the shop is very small and simple, with some Korean decorations.
One of the Korean Decorations in the shop
Hankook Rice Cake house sell quite a variety of rice cakes, there are also samples available on the table for tasting. We tried a few of them, but to tell the truth, Korean rice cakes are not really to our liking, or rather we can't really appreciate the beauty of it.
But because we have tried their samples, we felt rather guilty if we just walk out of the shop, so my friend decided to buy a box of rice cake for take-away.
If i didn't really remember wrongly, these are pumpkim with nuts, seeds, and raisins fillings. Please correct me if I'm wrong. One box is in the range of 6 bucks.
Hankook Rice Cake sell rather authentic korean rice cakes, even though i'm no fan of it, but to open a shop just to sell rice cake, we should applause the owner for that!
Hankook Rice Cake House
9 Thomson Ridge
Tel: 6456 3456