The Indulge @ Cathay offers fusion European cuisine with an Asian twist. Located at basement 1 of Cathay, the front of the restaurant isn't that prominent from first sight, its more behind in a corner.
The fusion cuisine is apparent in the names of the dishes like panseared salmon with kung po sauce, dory with thai sauce, chicken kebab with oyster ginger sauce.
The Indulge interior is quite small, roughly seats about 20-30. The lightning is actually quite dark, i suppose its for the "ambiance"
One thing that i don't like was at one corner of the restaurant, they actually dumped quite a lot of stuff there which makes the overall feel messy and untidy.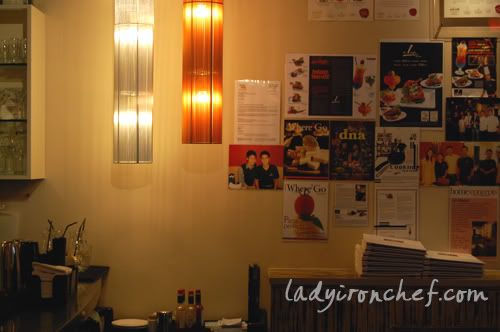 Apparently The Indulge won quite a lot of awards, and appeared on magazines and local publications.
The Indulge offers "super value" lunch promotion set meals, at $10.90++ you can choose from a few main course, and it comes with free tea, soup of the day, and dessert of the day.
There are some dishes which are supposedly the chef's signature dishes, but not feeling very adventurous, my cousin and I decided to go for the cheaper set meals.
Chicken Chop with roasted black pepper sauce ($10.90)
The black pepper sauce chicken chop comes with either garlic rice or mash potatos. I chose garlic rice, and the fragrant of the garlic in the rice surge in when i had my first taste of it.
Although the garlic rice was not bad, not so much can be said of the black peper chicken chop. It was downright ordinary. Being a restaurant i was expecting something more, but it just never came.
Grilled Beef sirloin with black pepper sauce ($10.90)
The same could be said for the black pepper sirloin. Done medium rare, the sirloin did nothing to impress us.
One thing which i also did not like was the lack of sides, it could be better if there are sides of veggies or stuff like potatoes which will make the meal more complete.
Dessert of the day
The dessert of the day is a single scoop of ice cream, while the ice cream is your normal vanilla, but the sauce and nut goes quite well with it.
Total bill was $25.50 for 2 person, not expensive given its a restaurant. But its a double-edged thing, the quality is certainly not there since its a restaurant also.
Maybe we ordered the wrong dishes, maybe we should have try the signature dishes to have a true gauge of the restaurant, but if the normal dishes taste so ordinary like your typical coffee shop western food, i'm not so sure about the rest.
But having said all that, The Indulge still served fusion food with affordable pricing, and its a good place for a meal in Cathay, especially when there's not much dining place there, and you can have a quick bite before or after your movies.
The Indulge
2 Handy Road
#B1-26, The Cathay
Tel: 6732 3952