The Brazilian Churrascaria-craze hit our local shores a few years back, and the list of restaurants have spring up quite a few others to have a share of the pie. Think Brazil Churrascaria, Samba Brazil Steakhouse Churrascaria, Vibe Restaurant @ Pan Pacific, Mamma Lucia Brazilian Churrascaria and now we have Rio Brazilian Restaurant
I was rather fascinated by the Brazilian Churrascaria concept. Churrascaria is Portuguese for barbecue restaurant, and it works as buffet style where the passadors (meat waiter) will bring the whole skewer of grilled meat to your table and wield their knife to cut the meat onto your plate.
The main reason for delaying a trip to a Churrascaria restaurant until now was mainly because of the price. I admit the price for Churrascaria are rather on the high side, with lunch going at $30 range, and dinner for $40 range at most Churrascaria restaurants here.
But Rio Brazilian restaurant is having a promotion, and its freaking cheap. $18.90++ for its lunch buffet, with 5 churrasco meat, salad bar, soup, hot dishes and desserts. Think $18.90 is cheap already right? Their promotion is 1-for-1, which means $18.90 for two person!
You must thinking whats the catch right? I didn't found any, but i think the main reason they are able to offer at cheaper rates because their churrasco meat are lesser, the usual standards for lunch will be around 7-8 items, but they have just 5 items.
There's the al fresco area which was beside a mini-lake. For people who don't perspire, or for you to sweat it out and enjoy the sun.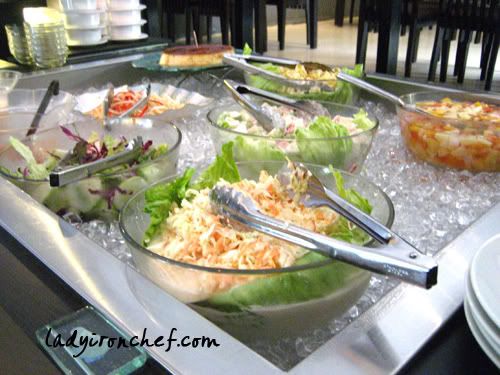 The salad bar offers a few types of salad, and they are life-savers, you will need them when you start on the meat. We didn't bother touching the hot dishes buffet, first thing first they don't look appealing to us, and better save your stomach for the meats.
Chicken Drumstick
There you have it, the passadors (meat waiters) bring the skewer of meat to your table and served. And the number of meat you want is unlimited!
The chicken drumstick was quite nice, we had the most among the 5 churaasco, 10 drumstick meat between the two of us.
Pork Sausage
The pork sausage was not bad too, both of us had a total of 6 sausages.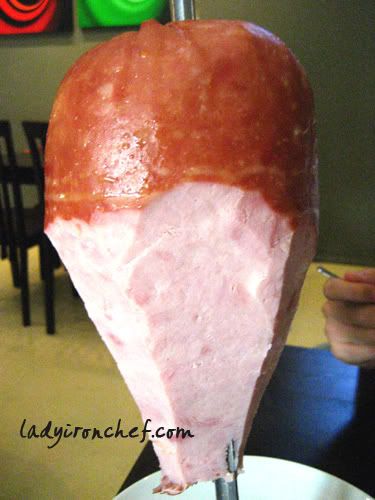 Honey Baked ham
The honey baked ham was too salty, really in excess of salt. We only had 4 slices of the ham, drink lots of water!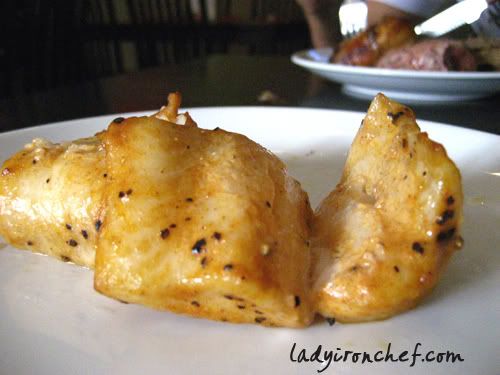 Dory Fish
The dory fish failed too, a bite into it and thats the end. We took 2 pieces and couldn't finish it. What do you think?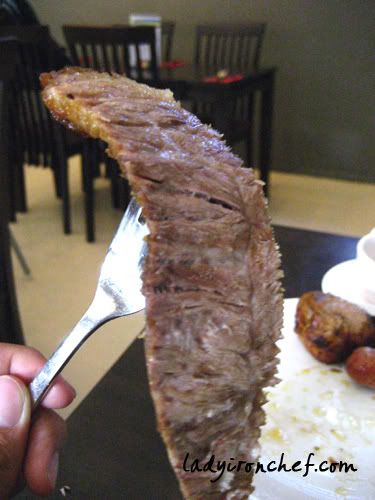 Beef Hump
The beef hump was slightly better, if you love beef then this must be the one for you. We had 8 slices of beef.
Total bill was $22.11 for 2 person, which works out to be around $11 for a person? For the quantity and amount of meat that we had, its definitely value for money. But the quality-wise, not so i guess. The meat wasn't excellent, but they should suffice in stuffing your stomach up.
One thing to note, all the churrsaco are really salty in taste, we had a lot helpings of the salad bar to quench our thirst. And they don't served ice water, i suppose another reason why they offer the food so cheap is because they have to earn from the drinks section.
One can of drink cost 4 bucks, we didn't had any since i "prepared" and brace for the storm since before i went there i found out that they don't served ice water, so i brought a couple of bottles of water along.
A bit cheapo i guess, but one can of drink at 4 bucks is definitely not enough to quench the thirst. The location is quite ulu if you don't know the place, its at Queenstown, beside the National Library there's this golf range. If you need help finding the place, drop me a email [email protected]
And oh ya, i'm not sure whether the promotion still last now, because i went during march, which was like two months ago? Do give them a call before going down.
Rio Brazilian Restaurant
60 Jalan Penjara
Queenstown Club
Tel: 6474 7473
" Meat, meat and meat "