Peach Garden is one of the most well-known restaurants when it comes to Chinese fine dining in Singapore. It currently has five branches at Novena Gardens, Thomson Plaza, Hotel Miramar, Orchid Country Club, and OCBC Centre 33.
Reservations are highly recommended, especially if you would like to have a window seat. The dim sum menu has over 20 items to choose from. Otherwise, you can go for the set menu at $38++/pax.
Most of the dim sum items come in basket of 3, but as there were eight of us, they were flexible enough to allow us to order 8 pieces instead.
The baked BBQ pork pastry, or char-siew sou was good, but I've had better ones elsewhere before.
The Fried Carrot Cake with X.O Sauce – one of Peach Garden's signature dishes – was slightly crispy on the outside, and very soft on the inside. But I couldn't taste much of the X.O sauce, and to be completely honest, I am not sure if I'd pay $8 for it.
The baked mini egg tarts were decent with flaky crust and smooth egg custard.
Another highlight was the Siew Mai. I would say it was quite good, with predominantly lean meat, and crunchy shrimp.
The Har Gau, on the other hand, was okay but not fantastic. I didn't find it very outstanding although it was definitely in the above average region.
Steamed BBQ Pork Bun is one of my all time favourite dim sum items, and Peach Garden's rendition was actually one of the better ones that I've had.
The signature dim sum of Peach Garden is without a doubt, the Steamed Custard Bun. The beautiful golden yellow custard filling oozed out when I poked a hole into the bun. I'd come back to Peach Garden just for this.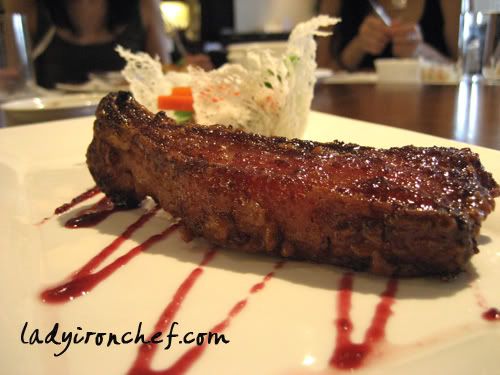 Initially, I thought that it was quite expensive to pay $7 for one spare ribs. I had to eat my words when the staff served it to our table. The BBQ sauce went very well with the Baked Spare Ribs, and we finished everything.
Overall, Peach Garden at OCBC Centre 33rd floor is a nice place to go for dim sum. It offers a bird's eye view of the beautiful skyline, and most of the dim sums are reasonably priced.
Peach Garden
65 Chulia Street #33-01
OCBC Centre
Tel: +65 6535 7833