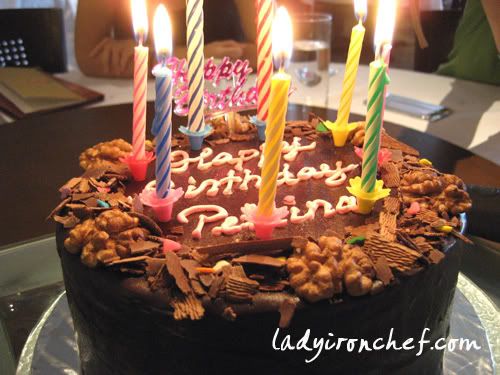 Lil' Foot Pâtisserie, an online blog pastisserie selling exclusive gourmet pastry. Most of the pastries there are in limited quantity, but they definitely do not lose out in quality.
We had the chance to sample the Rocky Road Mousse Cake as one of my friend ordered it from Lil' Foot Pâtisserie for Petrina's birthday while we were at Peach Garden celebrating.
Crunchy walnuts and chewy marshmallow in every bite awashed with thick creamy chocolate ganache!
Our Rocky Road Mousse cake is the round 7 inch which can serve 8-10 people and it comes at a price of $38. There are even different flavours of marshmallows inside the cake!
Maybe i'm a little behind time, but this is actually the first time that i had a cake which is filled with marshmallows in between, and the result is wow!
Lil' Foot Pâtisserie doesn't have many variety of cakes available, but for the lack in choices, the ones that they offer certainly are excellent and is priced reasonably. I'll be looking to get other cakes from them soon. So stop getting your cakes from boring places you-know-where (i'm not naming the bakeries)
Lil' Foot Pâtisserie
http://littlefootpastry.wordpress.com/