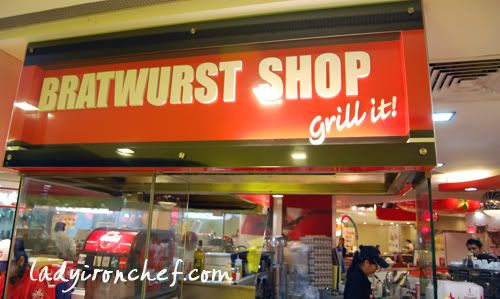 The newly renovated basement of Plaza Singapura has seen many new tenants providing all sorts of quirky and creative food. Bratwurst Shop is one of the original stores which has been there for quite a long period of time.
Just in case you have no idea, Bratwurst is a sausage composed of pork, beef and/or veal and the name is from Germany.
For the sausages, you get to choose from different toppings, the original, bacon & cheese, mushroom& cheese are some of the popular ones.
After choosing the toppings, you'll get to choose the type of bratwurst that you fancy, swiss cheese pork, spicy beef & pork, black pepper pork, italian pork, mild beef & pork are all available.
There are also a wide range of sandwiches available at pretty decent prices.
I remember the old Bratwurst shop was located on the other side of the basement, nearer to the escalator outside Carrefour, but they have since shift to this corner which provides them with a larger seating area.
The theme for Bratwurst shop is apparently red, with their furnitures and shop signboard in bright red.
Swiss cheese pork, original with mustard & sauerkraut ($4.95)
I had the original with mustard & sauerkraut for my choice of topping, and the swiss cheese pork for the main.
The sausage was really huge, i must say its quite value for money as one will fill you up if you finish it together with the bun. However i disliked the sauerkraut as i find it to be too salty and sour, and does not compliments the taste of the sausage.
And just in case you are wondering, sauerkraut is finely sliced cabbage fermented by various lactic acid.
Tuna Sandwich ($5.50)
On first sight the tuna sandwich certainly does not looks appealing, the bread looks dry, and the tuna well doesn't looks attractive to me.
But my friend say the tuna sandwich actually taste not bad, and at $5.50 i guess you can't really complain.
Total bill was $10.45 for two, we didn't order any drinks because we went to Carrefour to buy mineral water beforehand. Well, we were on a budget, had waffles at Gelare before coming here, and besides mineral water is healthier!
Drop by Bratwurst shop for a hassle-free, quick bite if you are in Plaza Singapura, and do not want to spend too much money on a meal before going to the theaters!
Bratwurst Shop
68 Orchard Road
#B2-39C Plaza Singapura
Tel: 6884 4093
" Not your normal small sausages "