Bark Cafe, an quaint cafe with excellent ambiance located just beside the Changi Chapel and museum.
I have to admit first, this post will be biased because i simply love the place. The cozy feel of the place, with the simple furnitures, coupled with the breezy wind makes this place a wondeful place to chill out with your friends and love ones.
Put it simple, i can order something and sit there for the whole day and chat with my mates. And furthermore, the price range of the food won't do any much damage to your pockets.
Pricing are reasonable, and even affordable going by the ambiance packaged and factor into the price. They have burgers, pizzas, spaghetti, and the mains are all going in the 10s range, with the most expensive item on the menu being the steak at 20s.
If you aren't hungry, order something to share, starters like chicken wings, wedges, calamaris will do finely if you got a group of friends with you.
Going for something light? Look no further than their salad with choices like the Caesar salad, warm Chilean salmon salad, roasted beef salad and soft shell greens.
I know it might seems a bit funny, and even to the extend weird, because its quite seldom you see LIC recommending a place so strongly right?
So you must be asking, is LIC paid to do a advertisement for Bark Cafe? No!
Does LIC owns the place, or does his friends own the place? Sad to say, No!
The fact is, once i stepped into the place, i really fall in love with it, the serene environment makes me feel tranquil and relaxed at home.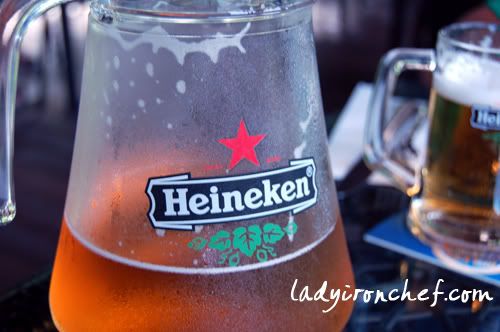 Jug of Heineken ($20)
My friend and i ordered a jug of Heineken despite the time was rather early, about 5pm? I don't know, but for me drinking don't seems to be very right during the day.
The place's excellent to order some beer and just chill man!
Glass of Beer
A mug of beer actually cost $6, and a jug of beer actually have slightly more than 3 mugs. So if you do some simple maths, its more worth it to order a jug than just a mug if you can drink (obviously!)
But because we were very full from the other eats before we came to Bark Cafe, we actually couldn't finish one jug. Shame shame!
Bark's Speciality Chicken Wings ($10.90)
Half dozen jumbo chicken wings deep fry till golden brown. Actually on the surface, the chicken wings look really ordinary, but for some reason or the other, the wings really taste quite good here.
Maybe its their method of marinating the chicken, or maybe its the chicken that they are getting, but it taste good and my friend ordered them everytime he's there.
Total Bill was $36.15 for one jug of beer and chicken wings. Bark's cafe is really excellent place to relax with your friends, and if you do stay in the east, i'll highly recommend it to give them a visit. But if you are like me, staying in the west, all i can say is we missed a good place.
One thing to note from the menu however, they offer ice water only during the weekdays, from Mon to Thu, and they do not offer ice water during Fri and the weekends. This i felt isn't very good, why the differential in treatment? Just because weekends are more crowded does not mean you won't offer water yeah?
Nevertheless, Bark's ambiance is excellent, food is not too bad, and the price is reasonable and affordable. Hope to hear from you if any of you go there alright?
Bark Cafe
1000 Upper Changi Road North
Tel: 6545 4118
Bark Cafe is listed as one of ladyironchef's favorite restaurants in Singapore
Featured in