Bakerzin is a well-known name in the local desserts scenes. Touted for their pastries and desserts, Bakerzin started in 1998 and has since open 4 outlets in our island. Dinner was at the branch at Paragon, the place was rather small but it was packed to the house.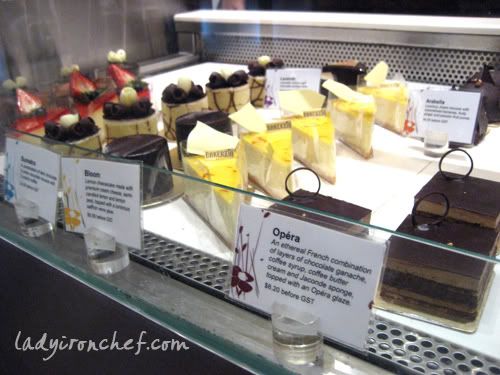 The desserts are all available at the counter, not found in their menus. So you'll have to come to the counter and make your picks.
Assam Prawns with linguini ($14.80)
The owner chef Daniel paired up our local favourites Assam prawns with linguini to create a marriage between east and west. The overall taste of the fusion dish was not too bad.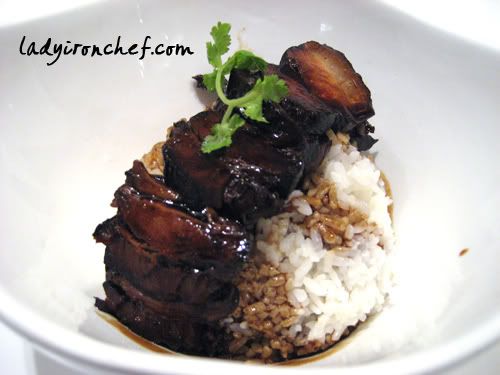 Braised Pork Belly with Japanese rice ($13.80)
This was the fatal mistake of the night. At $13.80 for like six pieces of braised pork belly, the dish is clearly a rip-off. Gods know what my friend was thinking when he ordered this dish. And yes he didn't finish the dish.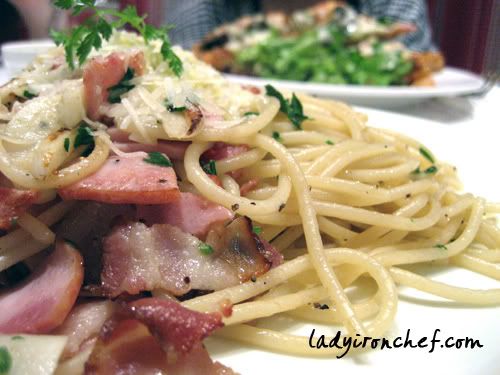 Aglio olio spaghetti with ham & bacon ($11.80)
Aglio olio spaghetti sauteed with olive oil, garlic, chili padi. The simple dish was not up to the mark, for a start its not hot enough with the chili padi. There wasn't much texture in the spaghetti and I struggled to finish off the dish basically sums up everything.
Ham, bacon & mushroom flaky pizza ($12.80)
With popular ingredients like ham, bacon and mushroom, I guess nothing can go wrong with the Pizza. Mozzarella cheese spread on thin crispy pizza and the serving is pretty decent.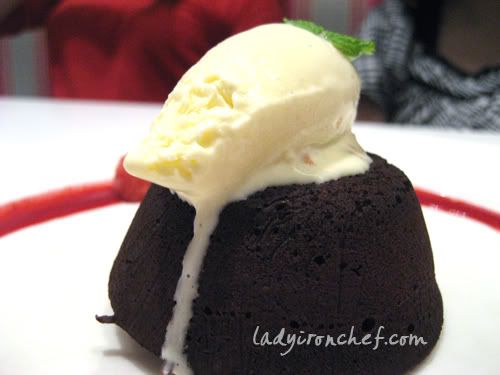 Warm Chocolate lava cake with scoop of ice cream
Complimentary dessert from using Citibank credit card, with spendings above $50. A dip into the warm chocolate lava cake, all the chocolate came rushing out like a volcano. Coupled with the cold vanilla ice-cream, its a delighful combination
For desserts, we also had Sumatra, which is a combination of dark chocolate & white chocolate mousse with Sumatra coffee. And a slice of the cookies & cream cheesecake. Both are $6.50. Unfortunately I didn't take any photos because my dear friends actually ordered the two cakes while waiting for me.
Total bill was $99.57 for 4 person. We spent a large portion on drinks, around $20 bucks for three drinks, the violet lime ($5.80), ice hazelnut blend ($6.80), and ice latte ($6.80). I always do not like ordering drinks from restaurants as they tend to mark up the price by a very significant amount. And Bakerzin does not serves ice-water.
The experience at Bakerzin was flat, I was quite stunned by the bill when it arrived given the quality of food we had. To be fair the main course isn't that expensive going in the range of 10s. But the quality of the mains really leave no rooms for desire.
The desserts are all in the $6-$10 repertoire. And i must say they are excellent, if you were to ask me to go back Bakerzin for a meal, i'll leave a flat no. But if you ask me back for desserts, no problems there.
Bakerzin (Paragon)
290 Orchard Road
#02-09 The Paragon
" Just ignore the mains, and get stuck in with the desserts. You have been warned. "