Tong Shui Cafe (TSC) is one of the many Hong Kong Cafe located in Singapore. Frankly speaking, I disliked Hong Kong Cafe, because i felt that they are rip-offs for the food that they provided. One bowl of instant noodles, a sunny side-up, and luncheon meat for 5-6 bucks? Give me the money, i'll gladly cooked it for ya!
You get my meaning? Hong Kong cafe that serves authentic Hong Kong food are definitely good, but they are sadly nowhere to be found in Singapore.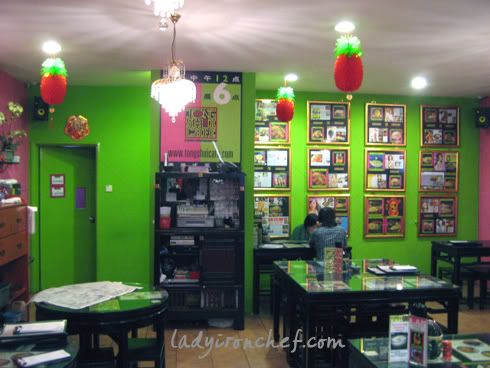 The branch that we visited was at Zion Road, opposite Great World City.We went there for desserts after finishing the meal at Al Den Pronto (yes i know, its been ages ago, but i forgot to make this post).
A quick glance into the small cafe tells it all, bright colorful backgrounds are the theme for Tong Shui. The menu is quite comprehensive, with quite a variety of food available, but we skipped all of those having had dinner already.
TSC tuttii fruitti summit ($11.90)
The extra large fruit pudding for 2 persons and more. A single pudding on its own cost $3.9 on its own, while we ordered the jumbo-size one at $11.90, doing some simple maths actually there is no "discount" for ordering the big version. Perhaps the serving is better than ordering three separates one? It can be anyone's guess.
With choices of durian tutti fruitti, mango tutti fruitti, kiwi tutti fruitti, and strawberry tutti fruitti. We left out durian since not all people can said to enjoy the fruit. Mango tutti fruitti is good, everyone loves mango, well at least i do.
The kiwi one does not taste very nice (i don't like kiwi), and the strawberry one has an over-strong milky taste which does not taste right for a pudding.
Tong Shui Cafe slogan is "more than just desserts", but sad to say, I'm afraid that they are really a place just for desserts. Well maybe its based on my personal opinion on the standards of Hong Kong Cafe in Singapore, the last time i went to another Hong Kong Cafe, Xin Wang Cafe was also for desserts. Maybe LIC is biased, will someone like to prove me wrong?
Tong Shui Cafe
54 Zion Road
" Only just for desserts "