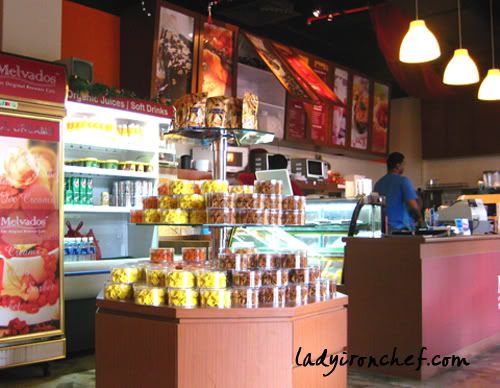 * * * Now Closed * * *
Melvados is the first and only specialty brownie café in Singapore. The brownie menu offers several unique brownie creations such as 'Nuts about Bananas' and 'Sizzling Brownie Sensation'.
Apart from brownies, the food menu features appetizers like fresh salads and finger food. Their main course selections ranges from sandwiches at $6, baked rice, lasagnes, to spaghetti, bread bowls, pizza, chicken and fish.
The drinks menu offers Gourmet coffee, organic juices, and specialty drinks such as flavoured coffee, ice blends and fizzies. Retail items includes condiments such as basil pesto, sundried tomato pesto as well as gourmet cookies such as hazelnut cookie, blackforest cookie and many more. Samplings available for all cookies and brownies.
After lunch at Relish for their gourmet burgers, we decided to skip the wild rocket signature cheesecakes for the 'gourmet desserts' at Melvados which was just across a street away from Relish.
Stepping into Melvados, it was definitely smaller than what i had expected, the interior can accommodate at most 20 seaters, with the al fresco adding another 8 or thereabouts.
The walls are done in bright colors, with a cozy corner for the sofa seats. But the granite floor looks out-of-place for a cafe interior. Furthermore, there is a large fridge displayed openly and looks messy.
Rich Chocolate Madness ($4.80) & triple choc ice cream ($1)
Rich Chocolate brownie with chunky walnuts, served warm with a layer of chocolate sauce. Pure indulgence for chocolate lovers. The whole taste about this brownie is chocolate-ty! Even though i love sweet things and chocolates, it's still way too sweet for me.
But not mention i had the triple choc ice cream to go along with it. The vanilla ice cream was sold out, and the other brownie had cookie & cream so i thought i had something different.
Surprisingly the triple choc ice cream does not taste sweet when we eat it together with the brownie, i guess the sweetness of the brownie overwhelmed the triple choc and in contrast the ice-cream did not taste very sweet.
Black & White Kisses ($4.80) cookie & cream gelato ($1)
Dark chocolate brownie topped with black and white Hershey's kisses, accompanied with Cookie & Cream gelato. If you ordered the brownie, an additional scoop of ice cream is a dollar, while ordering the ice cream on its own is $3.20 for single scoop and $4.50 for double scoop.
Touted as Melvados signature brownie, the black & white kisses did not disappoint. We preferred it to the Rich Chocolate Madness. The dark chocolate was not very sweet, but coupled with the black & white Hershey's kisses, the taste blended in perfectly.
A scoop of the cold cookie & cream gelato, on top of the warm chocolate brownie, the result was an instant melt in the mouth effect.
Total Bill for 2 brownies come up to $13.6, not very expensive for 2 desserts. There are plenty of other desserts selection which looks interesting to me. Most of the food items at Melvados are reasonably priced, with the most expensive at $12 for the pizza. Desserts like brownies and cakes are mostly going at $5 each.
While I have not tried the food, but Melvados is billed as a brownie specialty cafe after all. I doubt the food quality will be that fantastic, but given the price i guess there's no harm trying it. Located at King's Arcade (besides Coronation plaza), it is not very convenient by people not living in the west, but there are a lot of buses which goes through the area. And its about 20min bus ride from Orchard.
Melvados Cafe
559 Bukit Timah Road
#01-01 King's Arcade
Tel: 6469 3101
" Brownie Specialty Cafe "