LIC is proud to present the prelude of ladyironchef restaurant!
There are certainly many gourmet food out there, but most people when asked what food they fondly remembered? It'll always be home-cooked food. For thats what all of us grow up with, our comfort-food.
Stir-fried long beans
The dinner for the night started with Stir-fried long beans with garlic. The greens are stir-fried lightly to keep the beans crunchy and fresh.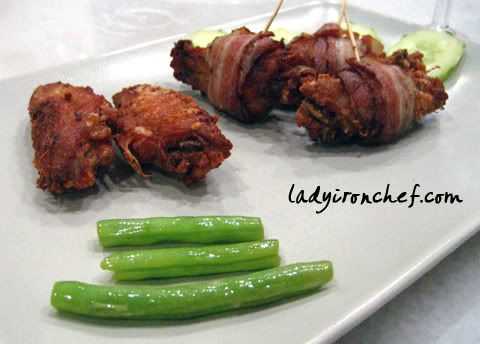 Chicken wings assortments
Fried chicken wing which comes in the typical form, and alternatives with the bacon-wrapped chicken wing. The chicken wings taste good on its own, but with the bacon wrapped around the wings, it added an additional flavor to them.
Rack of lamb
Seasoned with rosemary and black pepper, the rack of lamb is served with seasonal greens.
The black pepper was just nice, unlike in some instance where the strong pepper overwhelms the flavor of the meat. Rosemary by nature has a bitter, astringent taste, and give off a distinct mustard smell to the rack of lamb.
This brings us to the end of the prelude of ladyironchef restaurant. Hope you have enjoyed the meal, and please visit us again for many more tasty food. Whatever written above are my geniune feelings expressed in words that are definitely bias and subjective. Feedback is always essential for progress. LIC shall not progress for the sake of progress, therefore, both positive comment and negative criticism are always appreciated.
" Nothing taste nicer than the food you cook a meal for your love ones "