* * * Now Closed * * *
Absolute Haven pride itself in serving Modern European Cuisine. Barely one years old, the restaurant has attracted numerous food-lovers and had rave reviews about the place. Thus its no wonder LIC must make a visit to Absolute Haven for a dinner.
Located at Prinsep street, the area has seen the entry of many new restaurants and has become a dining spot positioned within walking distance to Orchard. Absolute Haven is probably the crown among the many restaurants there, with the others not really being competitiors to it, but as complements which help to build Prinsep street as a place to dine.
Entering through the gates of Absolute Haven, there is the alfresco dining area where you can chill out with your friends. Otherwise, if you are on a romantic date and do not want to be seen sweating while enjoying your meal, step inside, to the cozy and chic environment of Absolute Haven.
When my friend and i reached the place at 7pm, the place was not full yet, but the crowd starts to come in subsequently. Being brought to our seats, we browse through the menu and placed our orders.
Mushroom Soup ($5.80)
A very mushroom mushroom soup, made from portobello mushrooms, shitake mushrooms, and button mushroom. The rendition here is quite similar to the ones I had at Friends @ Jelita, except this one comes up stronger in the "mushroom taste"
Soup of the day ($5.80)
We begin our delightful meal with the soup of the day. I'm not really a soup person while dining out so my view may not paint an accurate picture.
Oriental Cod-Fish ($24.0)
Steamed cod-fish done in oriental style topped with wolfberries, shitake mushrooms and bacon, served on a bed of asparagus.
This is truly an fusion where East meet West. You will never expect a dish like Oriental steamed cod fish to appear in a modish European restaurant like Absolute Haven.
Wolfberries as a ingredient, are by far rarely found in European restaurant, it further emphasized the oriental-ness of the dish. The use of bacon added flavoring which enhance the taste of the fish.
It does seems slightly weird to have a oriental steamed cod fish as a main course as usually it is more common to find it in Chinese restaurants. Nevertheless we enjoyed the unique experience, there's always a first for everything.But from what we gathered from Phyllis (Absolute's Manager), some customers find it to be too fishy, and the fish will be taken off the new menu which will commerce on 9th April.
Chef's Special Norwergian Salmon ($32)
Herb oil confit Norwergian Salmon drizzled with Vanilla cream sauce, walnut & black olive pilaf rice, accompanied with organic butternut pumpkin braised in Earl grey tea.
The food at Absolute Haven are all presented very well, the chef really does put in effort in making the dishes look nice. After all, a good appearance of the food does makes it taste better. Applause to the chefs for their hard work!
Having try quite a few Salmons recently, the version here is slightly different to the ones i had before which are mostly grilled or pan-fried. The herb oil confit salmon is a nice change, and i dutifully finish every bit of it.
The walnut & black olive pilaf rice is good, without a doubt. The organic butternut pumpkin braised in Earl grey tea isn't really to my liking, but i do appreciated the effort put into making this side dish.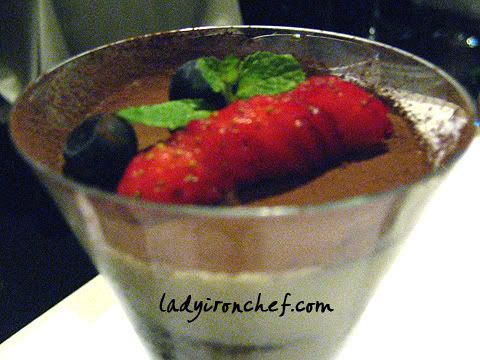 Tira Mi Su ($9)
A classical Italian dessert served with espresso coffee and liqueur in light mascarpone cheese mousse. The Tira Mi Su here simply melts in my mouth, the liqueur was not too strong which does well for me. The slight hint of cheese in the mousse also provides a variation from the normal Tiramisu.
The thought of the Tira Mi Su dissolving at the tip of my tongue is enough to make me visit Absolute Haven again.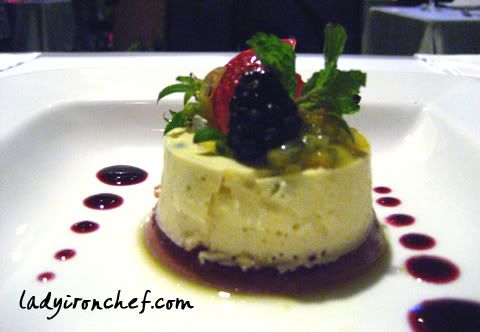 Passion Fruit Panna Cotta ($9)
This dessert wasn't on the menu when we visited Absolute Haven on the 22th March. There was another choice, lavender Panna Cotta, which offers a sweet version instead of the slightly more sour flavor of the passion fruit panna cotta. My friend preferred sour to sweet, so we got the Passion Fruit.
Total Bill came up to around $100.15 for two person. Special thanks to Panerai who make this visit sooner (I'll have go to Absolute even without the vouchers) by giving me two Absolute Haven vouchers (entitled to two free soup and main course). But do not let this fact spoils the review. I deliberately left this fact for the end so that my share-readers can read through this review without any hint of biasness. Absolute Haven is excellent, and i'm not saying this because i got a free meal.
We paid $13.30 for this excellent dinner for the Tiramisu, the Panna Cotta was on the house, courtesy of Phyllis. Absolute Haven promise romantic fine-dining at an affordable price, without burning a hole in your pocket, you can bring your dates there for special occasions. Even for normal events, it's a great place to chill out with your family and friends. The price of their mains ranges from $16 to $32, and desserts are valued at $9-$12.
The friendly manager, Phyllis came up and spoke to us about our meal halfway through. She is a real nice person. You could feel her earnest and sincerity while she was talking to us. There are few managers or bosses in the local food & beverage industry that come across to me as genuine as her. Do call her 9766 3798 or even drop her a sms (which i did) to make your reservations.
The service staff there are polite and quick to help out if we got any inquiries, and my friend note that most of them are good-looking. Anyway thats not the main point, the service at Absolute Haven is indeed what other new start-ups should learn from. Excellent services can never go wrong!
Absolute Haven
70 Prinsep Street
Tel: 6333 4358
" Romantic Fine Dining at an affordable price "