Dinner at Fish & Co The Glass House, as i had called in advance to place a seat in the waiting list (they don't accept reservations on Weekends), when we reach we managed to go in straight away. The menu had quite a variety of fish and seafood for their main course (no other meat, after all they are called fish & co, not meat & co)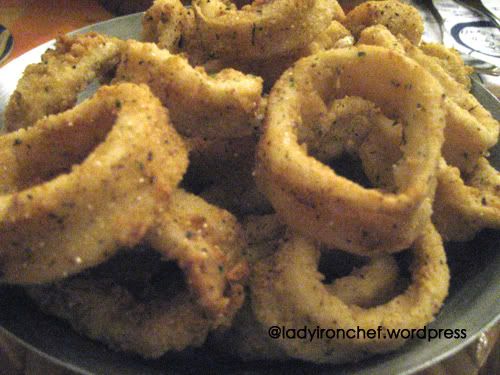 Fried Calamari ($8.90)
The all-time favourite there, juicy tender squid rings grilled or fried to your preference! The servings were huge, two of us almost cannot finish it, best to order it when you have a larger party. Btw, the pictures aren't very clear cos the lighting there wasn't that bright, and i don't have photoshop so bear with it : )

New York Fish & Chips ($14.90)
Before i start eating i was starving, but after eating halfway i was already full! From the picture you can't really tell how big the fish is. Perhaps because the fish is stuffed with cheese, i felt the thirst just halfway through. Maybe it will be better for two normal-eaters to share one fish & chips and order another starter to share. Big-eaters, go ahead!!  

Grilled Salmon with rice ($16.90)
Salmon was quite good, together with garlic rice and some vege to go along with. I don't really fancy salmon so much, but mayb sometimes it's good to have some changes? Ha
Overall, the experience at Fish & Co was rather a good one, the staff were friendly, the food was pretty good just that i find it too thirsty, and the staff were a bit slow in refilling my water (mayb too many customers or i finish the iced water too fast). The price won't burned a hole in your pocket, our total bill for 2 person was $47.90. There are also a lot more variety of seafood and fish to choose from. Positive!! I will go back again, but mayb meanwhile my next stop will be Manhattan Fish Market, a restaurant with a similar concept to Fish & Co, or Hooked! a restaurant offering many different variety of fishes. I just realise nowadays had too much fish & chips, mayb if i tried a few more, i can compile a ladyironchef Best of Fish & chips list. Stay tune : )
Check out my second visit to Fish & Co here
Fish & Co (The Glass House)
#01-24 Park Mall
9 Penang Road
238459
Have you Blurb?